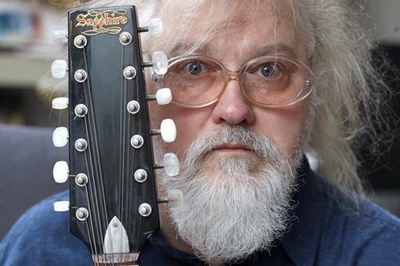 Maisonneuve at Pop Montreal: A Conversation With the Legendary R. Stevie Moore
Sept. 6, 2011
Plenty of artists might be considered "prolific," but the word doesn't do justice to R. Stevie Moore, who has released four hundred albums since 1967. Moore is the direct antecedent of today's pantheon of pop weirdos and, through the RSM Cassette Club, was an early influence on contemporary DIY recording and distribution. The absurd range of his oeuvre and his try-fail-try-again ethos truly make him one of our most undervalued masters. And this year, at age fifty-nine, he decided to try something else new: going on his first-ever world tour.
At this year's Pop Montreal festival, Maisonneuve is proud to co-present "The Abundant Singularity of R. Stevie Moore," a discussion with the ultimate outsider artist. Writer and fan Natasha Pickowicz will ask Moore about his creative process and extraordinary output. The always-eccentric Moore is sure to make for an entertaining and captivating interview; come marvel at a man who, more than forty years into his career, is still daring to do new things.
THE ABUNDANT SINGULARITY OF R. STEVIE MOORE
Friday, September 23, 2011
3:30 p.m.
Free
Co-presented by Maisonneuve magazine
L'École des beaux-arts de Montréal
3450 St. Urbain
Montreal, QC
Subscribe to Maisonneuve today.
Related on maisonneuve.org:
—Pop Montreal: A Workshop and Discussion With tUnE-yArDs
—Pop Montreal: Interview With Patricia Boushel
—Pop Montreal: Music Made With Machines
Follow Maisonneuve on Twitter — Like Maisonneuve on Facebook