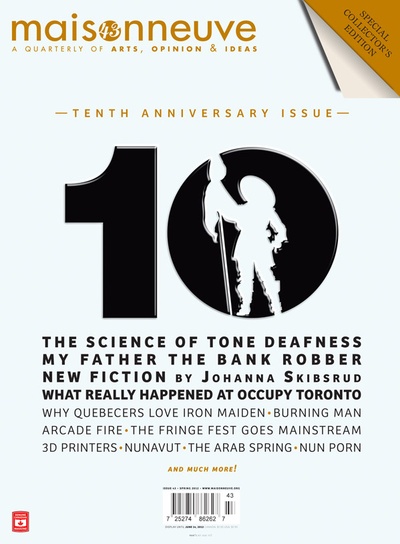 Tenth Anniversary Timeline
April 2, 2012
Maisonneuve was founded in 2002—perhaps the worst possible time to start a magazine. Since then, digital media has started to eclipse print and old publishing models have been declared dead. But against all odds, with a tiny staff and an even tinier budget, Maisonneuve has thrived, proving time and again that Canadian readers are hungry for smarts, wit and beauty. Now, one decade, forty-three issues and eleven gold-medal wins at the National Magazine Awards later, we're better than ever. Here's to the next ten years of Maisonneuve. 
April 2002: Founding editor Derek Webster starts Maisonneuve. Local and national media outlets cover the magazine's launch, with many newsstands selling out of the limited first run. The magazine is named after the founder of Montreal, Paul Chomedey de Maisonneuve, which dooms its editors to explain ever after, Yes, it's a French name, but it's an English-language magazine…
March 2003: Maisonneuve starts publishing themed issues. The Montreal Issue is distributed in the Gazette and is filled with thoughtful ruminations on Maisonneuve's hometown.
October 2004: The magazine hosts the Biggest Poutine Party at La Belle Province in Montreal. The greasy spoon's chefs create a massive dish of poutine, using 181 kilograms of potatoes, 40 litres of gravy and 22 kilograms of cheese curds. Shockingly, no one dies.
June 2005: Maisonneuve wins Magazine of the Year (then known as the President's Medal), the National Magazine Awards' most prestigious prize.
November 2006: Chapters-Indigo forces Maisonneuve's Issue 22 into a polybag because it happens to include a few candid photos of strippers getting ready for work. In an effort to turn lemons into lemonade, the editors add an orange sticker to the bag, which reads, "Danger: Stylish, Witty, Thought-Provoking Material Inside. Oh, and a few nipples." Newsstand sales increase dramatically.
November 2007: Maisonneuve sees its highest newsstand sales ever with the Food Issue, featuring articles on culinary concerns like molecular gastronomy and Mormon cuisine. It's also Maisonneuve's final themed issue; the aughts are officially over.
March 2008: Maisonneuve publishes "Scientology's Defier" by Bruce Livesey, an explosive investigation into the Church's lengthy vendetta against former inner-sanctum member Gerry Armstrong.
July 2009: Derek Webster bids the magazine a fond farewell. He is succeeded by senior editor Carmine Starnino and, later, associate editor Drew Nelles.
June 2010: Maisonneuve publishes "The Music We Hate," a hugely popular cover story in which some of Canada's top critics trash revered artists like Broken Social Scene, Animal Collective and Joanna Newsom.
June 2011: Maisonneuve has its best showing ever at the National Magazine Awards, walking away with three gold medals and thirteen honourable mentions.
March 2012: Maisonneuve celebrates ten years of publishing with a special anniversary issue.