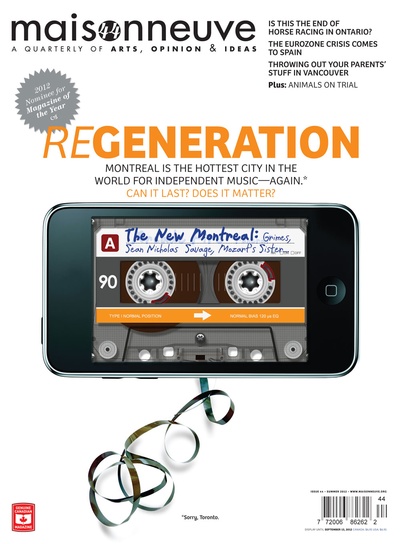 Our Summer 2012 Issue
June 11, 2012
Seven years ago, the international spotlight was firmly focused on Montreal's music scene. Across Canada, students shared songs by Arcade Fire and Stars over their dorm-room web networks, and music journalists were busy getting to the bottom of the city's success. These days, Montreal is in again, but the music has changed, writes Chandler Levack in "Visions of the Future," Maisonneuve's Summer 2012 cover story. A new generation of Montreal performers—who mine the pop past for albums they record on their computers—are nurtured by a tight-knit community and the support of tiny labels like Arbutus Records. On our cover, Maisonneuve art director Anna Minzhulina plays off of these technological transformations, and also the challenges they inevitably cause. Will the city's musicians be able to harness the moment, or will the community they love come unspooled?
Also in this issue:
Drew Nelles traces the long, strange history of putting animals on trial.
Abou Farman on our obsession with beginnings and endings.
Stacey May Fowles on the problem of grief and the confusion of abundance.
Simon Lewsen reports on the death of horse racing—and the rise of casinos—in Ontario.
Anna Maxymiw participates in a boys-only ritual: the boat pull.
Pasha Malla on why the dental industry must be destroyed.
Michael Harris throws out his boyfriend's parents' stuff in Vancouver.
J.J. Levine's playful photographs explore queerness and identity in portaiture.
Kim Thúy and Pascal Janovjak on their shared experiences of colonialism.
Derek Vertongen journeys through Spain in the era of the Eurozone crisis.
Crystal Chan discusses death in her French class.
All this, plus new fiction by Commonwealth Prize-winner Lisa Moore, new poetry by Claire Caldwell, a new comic by Marc Bell, spot illustrations by Vanessa Davis, the winner of Maisonneuve's 2012 Genre Fiction Contest, the Book Room and the Music Room!
On newsstands everywhere June 18. Order this issue now.