Outlaw Country
Collapsed industries, racist policies and cancer are topics most country bands avoid. But five musicians—Toronto's One Hundred Dollars—are rebooting Canada's gritty folk tradition.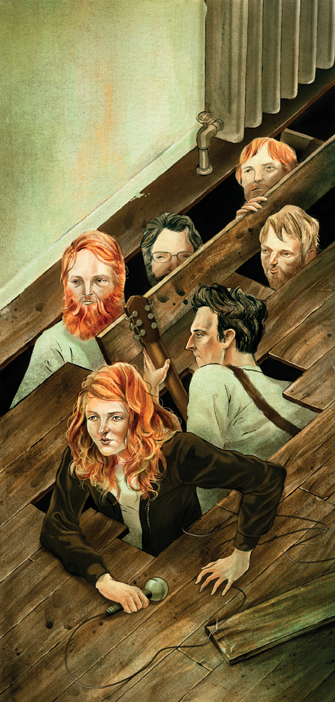 SIMONE SCHMIDT STANDS centre stage and stares into the three-hundred-plus crowd crammed inside Toronto's Horseshoe Tavern. Looking more punk than rodeo, she's sporting white high-tops and a faded, torn T-shirt. Not that anybody cares what she's wearing; they're here to listen to country music. Real country music. "Imagine you're in a bar in Fort McMurray," Schmidt says overtop clattering beer bottles in a raspy, commanding voice. "This song's your inner dialogue." Dave Clarke clacks drumsticks above his head and the band, Toronto's One Hundred Dollars, kicks into gear with "Black Gold."
In classic country allegory, "Black Gold" is a sad tale about a transient roughneck. This time, he's stationed in Alberta's booziest boomtown, a city of seventy thousand where, sings Schmidt, "it's two gallons burned for every one earned." Sitting in a bar, cast in the glow of VLT-machines, the song's character frets over his rocky marriage and newly etched vices: drinking, gambling and women—the fruits of labour for any oilman in Western Canada today. Schmidt came up with the story after speaking with a woman whose son, a Muslim, went to the Fort to make money for his young family.
"Before he went, he'd never drank or gambled, but because of the housing shortage, he was forced to sleep in his truck," says Schmidt, "and like everyone else, he spent his time and wages in bars." Welcome to Alberta in 2009. Hardly nationalistic, "Black Gold" is a sharp snapshot of the oil-based economy, a topical folk song that could be played in a history classroom fifty years from now.
Unlike the halcyon haze painted onto most countrified canvases, where plaid-shirted crooners tell tales of the true north strong and free, One Hundred Dollars write unflinching national anthems. Dead fisheries, cancer wards, migrant workers and quarrymen; bruised hopes, fourteen-hour days. "We want to write songs about Canada, but not cheerleader songs about rocks and trees," says Ian Russell, who composes the band's music. "What are our contemporary national identities? Who are we and how are we living? This is what folk music should express."
This fall the band released "My Father's House," a seven-inch about an inherited slum in Vancouver's beleaguered east end. "My father's house is four floors high/the people living in it just get by," begins the single, a lyrical look through the eyes of a girl set to take over a house occupied by junkies and Jane Does. Here, though, the metaphor runs much deeper than a Hastings Street flophouse. "I've been thinking about how my ancestors stole the land and inflicted trauma on others, and how I might contain that memory in my bones," says Schmidt, twenty-two. "It's the same with the girl and the slum. She might not like her history, but it's not hers to deny."
Released on Vancouver punk imprint Deranged Records, "My Father's House" is the second single in the band's ongoing Regional Seven-Inch series. Vinyl only, the series will detail Canadian life across the country, with each record focusing on a particular region and printed on a corresponding local label. It began last January with the launch of "Fourteenth Floor" on the Blocks Recordings Club label. Side A describes visiting a cancer patient at the Princess Margaret Hospital in Toronto. The cancer wing, Floor 14, is where Russell spent the better part of two years enduring chemotherapy for leukemia.
"I'm hopefully in the clear," says Russell, thirty-two, tired but smiling—he's just come from his ongoing treatment at the hospital. "The pain isn't as bad now. I used to wake up in severe pain and think about dying; it was a test I wasn't expecting." While Russell was bedridden, Schmidt would visit virtually every day and the two of them would play songs in the hospital room.
As the series continues, the band (piano player Jonathan Adjeman, bassist Paul Mortimer, Stew Crookes on pedal-steel guitar, drummer Clark, plus Schmidt on vocals and Russell on guitar and vocals) will travel the country—sonically speaking—steadily building a new national mythology until the project runs its course. Or until, adds Russell with a wink and a grin, "we elect an aboriginal prime minister."

MENTION FOLK MUSIC and images of long-haired singer-songwriters from the sixties and seventies come to mind. Most of the best-known political folk music comes from this period: Gordon Lightfoot's damning "Black Day in July," about the Detroit race riots; Torontonian Bonny Dobson's anti–nuclear war ballad "Morning Dew"; and Neil Young's "Ohio," about the shooting of student protesters at Kent State University. "Walk down a street in Italy and ask someone to name a Canadian artist and they won't know the Group of Seven. They'll name Neil Young or Joni Mitchell or Leonard Cohen," says Gary Cristall, artistic founder of the Vancouver Folk Festival.
The One Hundred Dollars Regional series stems from this time; in particular, the band cites Lightfoot's CBC-commissioned 1967 song "Canadian Railroad Trilogy," which tells, in pastoral language, how the Canadian Pacific Railway was built. "It's a great song, but it omits so much. Where's the hardship, the exploitation, the deaths?" Russell says, referring in part to the Chinese workers who did the most dangerous work but received the lowest wages. Just as this story isn't told in Lightfoot's song, the deeper story of Canadian folk itself is still unwritten.
"I've been at it for nine years," says Cristall, who's penning what he believes will be the definitive history of English Canadian folk music—a massive project that includes more than two hundred interviews. It's taken so long, says Cristall, because folk music in Canada is still relegated to the back pages of rock. Everybody knows marquee stars like Young and Mitchell, but less visible are Canadian folk's working-class roots.
"Nobody thought it mattered, so nobody documented it," says Cristall. In the late fifties and early sixties, folk's audience was largely Jewish, left-wing, middle-class urbanites. In the US, the influential People's Songs movement, started by Pete Seeger, Woody Guthrie and others, aimed to promote new labour songs. Folk was a hot, cheap venture that anyone with a guitar and sense of rhythm could relate to; and for songwriters, especially radicals, it offered a friendly, accessible way to tell stories. "You can't write topical songs in an abstract way," says Russell.
While American folk was trickling into the mainstream, thanks to Sing Out! magazine and New York-based Folkways Records, Canadian folk songs could only be heard live. Then came forty-something Montrealer Sam Gesser. "His wacko uncle had a box of records, many on the Folkways label, which Sam fell in love with," says Cristall. Gesser called up Folkways founder Moe Asch, asking why these records weren't available in Canada. "Moe told him, 'You do it,'" Cristall recounts. "So he did." Gesser, who went on to receive the Order of Canada, would release more than a hundred Canadian folk records, including Leonard Cohen's first recording.
In 1956, Gesser released what Cristall considers the first album of contemporary Canadian political songs, an obscure long player called Man of the Whole Wide World. Composed and sung by local folkie Art Samuels and the Montreal Youth Singers—"one of those commie groups," says Cristall—the album takes on conformists, nuclear war and, in classic form, "cold-blooded" Toronto.
Gesser was also releasing music from all parts of the country, including tunes from well before Confederation: voyageur and sugar shack songs from Quebec; lumberjack songs from Ontario; cowboy and settlers numbers from the Prairies; gold rush and logging songs from British Columbia; and, of course, traditional songs of nations like the Micmac, Sioux, Inuit, Cree and Ojibwa. Folklorists such as Helen Creighton, who rescued Maritime anthem "Farewell Nova Scotia" from obscurity, and Saskatchewan's Edith Fowke, who hosted CBC Radio's Folk Song Time from 1950 to 1963, provided Gesser with ample material to draw from.
At the same time, a new crew of folk enthusiasts began to emerge as the Canadian Communist Party embraced the music, which they believed was nationalist in form but socialist in content. Long treasured by right-wing folklorists, who collected the songs but couldn't get them out, traditional folk music was suddenly everywhere—now with a leftist twist. "The Travellers, who popularized 'This Land is Your Land,' came directly from Camp Nievelt, a Jewish socialist community," Cristall says. "In a sense, they appropriated the tradition and used it as a vehicle."

TODAY, SCHMIDT AND RUSSELL feel as if they're doing the same thing: replacing regressive country stereotypes of white Republican cowboys with new characters and calamities. It's raw stuff, akin to the driving, pulsating tunes of country music outlaws like Merle Haggard, Waylon Jennings and George Jones—"good" country music, the stuff you don't hear on the radio. As a result, the band has been ascribed the unfortunate moniker given to anyone outside of New Country's comfy fold: "alt country."
"We sent a copy of our CD to a country station but never heard back," says Schmidt, referring to the Polaris Prize–nominated Forest of Tears long-player. "Evasive songs that don't touch on modern-day realities sung by people pretending to be from the country don't reflect Canada," she adds. Schmidt makes no qualms about being a country band from the city. After all, a train song is still a train song, whether it's about the rural rails or the Toronto Transit Commission.
But while it's tempting to define "country" and "folk" according to their fans (conservative, country; progressive, folk), it's too wide a swath, says Cristall. "I remember getting into huge arguments with Stan Rogers," he says. "Everybody remembers Rogers' Maritime ballads"—"Watching the Apples Grow" and the Terry Fox–inspired "Turnaround"—"but really, he was this very conservative, protestant Orangeman. He called me the day after the Quebec Referendum, gloating, 'We won, boy!'" Still, admits Cristall, "There's certainly a corporate, right-wing element to contemporary folk music."
At this year's Vancouver Folk Festival, for example, a beer tent was erected for the first time, something Cristall wouldn't have allowed during his tenure. "There were cops in uniform and a few drunks, but it didn't ruin it." More importantly, he says, political music was still performed, like Vancouver folkie Geoff Berner's unofficial Olympic theme song, "The Dead Children Are Worth It." (After Vancouver's Olympic bid was accepted, the province cut back funding for the department that looked into deaths of children in care.)
But for every Berner and One Hundred Dollars, there are twenty New Country darlings singing "Hey, y'all!" and trading quips about how "tequila makes her clothes come off."
"I heard a country song today about going to Mexico on vacation," says Schmidt. Performed by Beverly Hills–based Zac Brown Band, the single, "Toes," was a summertime hit on country radio. The song, a tale of all-inclusive resort vacations, talks about "throwing pesos their way" in a sort of modern-day tale of the imperialist-tourist. "He had to leave," Schmidt says, "because the señoritas didn't like him."
(Illustration by Byron Eggenschwiler.)