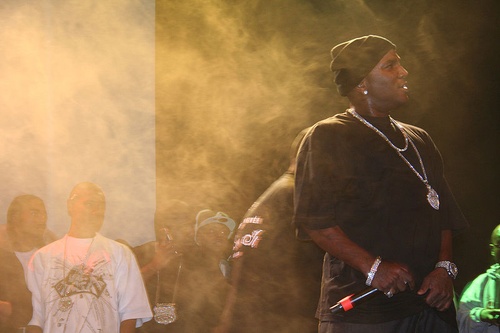 The 75 Best Songs of 2011
From Rich Aucoin to Rihanna, Young Jeezy to Yuck, here are the finest singles of the year.
Young Jeezy. Photograph by J Blues.
Here are the finest singles of the year, as selected by Maisonneuve's Music Room columnist. Some were technically released in late 2010 as the lead singles from albums that came out in 2011, so don't get smart. Enjoy.
1. Young Jeezy featuring Jay-Z and Andre 3000: "I Do"
Not since "International Playas Anthem" has a pack of rappers dared to talk about how badly they want to get married. Young Jeezy employs Jay-Z and Andre 3000 in this filthy ode to getting hitched; its sweeping chorus leaves cold feet hot-stepping.
2. Rich Aucoin: "Brian Wilson is A.L.I.V.E."
Rich Aucoin is a Halifax electro-musician whose GQ-worthy good looks and infectious enthusiasm have developed a real cult following. (He employed five hundred musicians coast-to-coast for this year's We're All Dying to Live.) Almost every track smarts, but "Brian Wilson Is A.L.I.V.E" is incendiary—a discofied earworm so catchy it almost kills you.
3. Rihanna featuring Calvin Harris: "We Found Love"
Oh my god—that video! Rihanna plays a cracked-out junkie as deep in love with her boyfriend as she is with heroin. It feels like every drug movie combined into one. By employing Calvin Harris to trance up this sweeping dance track, Rihanna has soundtracked a party you can't leave, mostly because you can't remember how you got there in the first place.
4. Adele: "Rolling In The Deep"
What does it say about 2011 that the biggest heat-seeking single of the year is a kiss-off to a non-committal jerk? Adele blithely wails, "We could've had it all" on this scorching soul song. The best revenge is the entire world singing your fury in the shower.
5. Destroyer: "Chinatown"
Only Dan Bejar's Muppet vox and new-romantic synths could soundtrack this film-noir homage to futility. And when the backing vocals duet with Bejar on the chorus, sex saxophones glistening in the distance, you feel like Nicholson is maniacally pacing somewhere, trying to heal his broken nose.
6. PJ Harvey: "Written On The Forehead"
PJ Harvey returns to form with this breezy song that encapsulates every genre of world music at once.
7. The Dears: "Blood"
After years of disappointment, the Dears return with a comeback single that combines Murray Lightburn's operatic vocals with a new arena-rock influence. It sounds epic—why didn't they do it before?
8. Radiohead: "Lotus Flower"
A perennial favourite of every yoga class I went to this year for some reason, "Lotus Flower" is a chilled-out Thom Yorke showstopper.
9. Lykke Li: "Get Some"
Is the most brazen move this year a lithe Swedish pop tart singing, "I'm your prostitute, you gonna get some?" Set to glacial discombobulated beats, yes, it is.
10. Yuck: "Coconut Bible"
A lost Dinosaur Jr. track from English wunderkinds never sounded as perfect as it does on Yuck's "Coconut Bible." Don't think, just bob your head.
11. The Rural Alberta Advantage: "Stamp"
The RAA proved its staying power this year with several foot-stomping indie ballads. "Stamp," with its corral of boy-girl harmonies and percussive ennui, simply made the biggest impression.
12. The Strokes: "Call Me Back"
Sophia Coppola is already writing a movie based on this song, so don't worry. While Angles is full of piquant new wave, I like this murky wisp of a rock 'n' roll song; its deadened guitars know they're going straight to voicemail.
13. Britney Spears: "Till The World Ends" (Nicki Minaj/Ke$ha remix)
Britney Spears wanted to keep things commercial this year, so she recorded a song for that supposed Rapture that was planned in May. The Ke$ha-penned "Till The World Ends" sounded fine sung by Spears, but it was always a Ke$ha song. On the remix, Ke$ha sings the chorus and Nicki Minaj faux-Britishly chirps, "It's Britney, bitch!" I love it when everything works out the way I always wanted it to.
14. TV On The Radio: "Killer Crane"
"Killer Crane" pitches TV On The Radio as slow and soulful, ready to make love and not war. The slow strums of an acoustic guitar build to a cathartic crescendo of strings, banjo and Tunde Adebimpe's plea for peace.
15. Fleet Foxes: "The Shrine/An Argument"
Fleet Foxes create a mini eight-minute rock opera with this track, the "Paranoid Android" of neck-beard indie rock. Lush, lovely and dramatic, "The Shrine/The Argument" initially sounds like a lost Simon & Garfunkel cut and then rip-roars into the Band.
16. The Lonely Island: "Turtleneck and Chain"
You can make an argument for that Washed Out record if you want, but I would much rather listen to the Lonely Island's well-produced baller parody about a guy clad in a "turtleneck 'n' chain, sipping on a light beer."
17. The Antlers: "I Don't Want Love"
An airy falsetto and the Edge-esque guitar work make this the best romantic refusal that U2 never wrote.
18. Battles: "Ice Cream"
Battles sex up with math rock with simulated fucking (seriously!) and then dive deep into proggy beach rock. Complicated and cinematic, "Ice Cream" feels like a waking summer dream.
19. Beyoncé: "Countdown"
The most complicated display of pure pop mastery comes from Beyoncé's mid-preggo "Countdown" and her Anna Karenina-meets-Tina video. Using a screwed brass sample and her empathic pleas to "grind up on it girl," Beyoncé tracks the steps of a relationship from ten to one, complete with a chorus worthy of a thousand midnight ball drops.
20. Little Dragon: "Ritual Union"
"Ritual Union" features synths that sound like early Sonic: The Hedgehog samples and dreamy xx vocals, eventually turning into a sultry dance track that keeps passion at arm's length. Only in Sweden.
21. Jay-Z and Kanye West: "Niggas In Paris"
Watch The Throne was a semi-cash grab from two of the biggest names in hip-hop, but Jeezy and Yeezy trade off on egos and ids like Freud and Jung on this unloved cut.
22. Girls: "Vomit"
Sounding like a lost Nirvana track, this six-and-a-half-minute love song traces a desperate search for affection.
23. St. Vincent: "Chloe In The Afternoon"
In this gauzy, discombobulated rock song, Annie Clark undergoes a scene study in disaffected glamour. With steely simplicity, she tracks an affair in mere images: "Find my heels, heal my hurt, wear white shirt, back to work."
24. Feist: "Comfort Me"
Feist confronts her mass appeal with a subdued love song that explains, "When you comfort me, it doesn't bring me comfort, actually."
25. M83: "Midnight City"
Why do all of M83's songs always convince me that this is the only dance track I ever want to listen to until I die? Smooth and devastating, "Midnight City" is the elated feeling of dance-floor purity.
26. Coldplay: "Paradise"
Coldplay's "Paradise" has instrumentation so good I wish I were a professional rapper just so I could use it as a backing track. When that heavy keyboard riff cuts in and Chris Martin opines, "When she was just a girl, she expected the world," it sounds like a thousand Livejournals drifting up to heaven. Drake should cover this immediately.
27. Atlas Sound: "Mona Lisa"
Bradford Cox is always evolving, and his ethereal take on Americana is my favourite makeover. "Mona Lisa" (off this year's Parallax) is the man's "American Girl," and that soaring chorus couldn't sound more commercial.
28. Drake: "Headlines"
Drake does complaint rock better than anybody. On this track, kvetching about how it's not his fault that he's so popular, he articulates the pain of being liked for what you represent more than for what you are. Friends only want you for your bottle service; bitches only want you for your game.
29. Friends: "I'm His Girl"
Brooklyn band with a gimmick name releases surprisingly feminist rap track (that sounds oh-so Salt N' Peppa) about a relationship rooted in equality. The fact that it's also eminently listenable makes Friends real innovators.
30. Rye Rye featuring MIA: "Sunshine"
This criminally overlooked double-team from UK hip-hopper Rye Rye and MIA is the best hang-out-the-car-window summer jam of the year. I love the locker-slam percussion and Rye Rye's Busta-style-vitriol.
31. Frank Ocean: "Thinkin' About You"
My favourite member of Odd Future crafts a low-key love song that answers the question: does every musician make music so they can score? Ocean says no, but the cocky sensuality of "Thinkin' About You" can only get him more action.
32. Lana Del Ray: "Video Games"
Whether you love Lana Del Ray or think her submissive mondo-lipped indie rock is playing to the male gaze, "Video Games" is still a mighty, defeatist siren song about loving a guy who can't even bear to get off the couch. I listened to it fifty times in a row once, and then again, just because I love the way she baby-coos, "Honey, you the bestest."
33. Nicki Minaj: "Super Bass"
Okay, brief nostalgia trip: I saw this performed by two crop-topped guidettes during a Montreal hip-hop karaoke night and those girls fucking killed it. Minaj still has her characters down pat, but she isn't afraid to add a little Madonna-in-the-barrio pop gloss.
34. Smith Westerns: "Weekend"
A group of disheveled teenagers finds an old T. Rex album and boom, an epiphany! All of Dye It Blonde sounds like vintage, hip-strutting acid rock (with a little nervous adolescent indecision), but "Weekend," with those aching guitars and guileless lyrics, really just wants to take you to the mall.
35. Shabazz Palaces: "Swerve... The Reeping Of All That Is Worthwhile (Noir Not Withstanding)"
Shabazz Palaces' innovative, expressive hip-hop stands out. "Swerve..." uses uncanny samples of African percussion and dark lyricism to create a slinky, almost cosmic soul song.
36. Marvelous Darlings: "Teenage Targets"
This year, Marvelous Darlings, the side project of Fucked Up member Ben Cook, released a singles compilation of flawless rock 'n' roll. The sweetly indecisive "Teenage Targets" won my heart—it sounds like a perfect slice of Singles-era alt-rock that even Paul Westerberg couldn't best.
37. Real Estate: "It's Real"
Already in danger of café overplay, "It's Real" has an amicable pastoral quality to its cascading guitars. It's a song about assuring someone that their love is requited, and it feels like a warm security blanket.
38. Grimes: "Oblivion"
A chipmunk-voxed Claire Boucher romances her own voice on this sweeping, dark rave-up. Imagine Tiffany's "I Think We're Alone Now," if what the jailbait singer really wanted to do was peak on MDMA.
39. Extra Happy Ghost!: "Mercy, Mercy"
Calgary's Extra Happy Ghost! does rough-hewn indie rock better than anybody. "Mercy, Mercy" is a lo-fi and eerily airy ballad about being stranded by your memories.
40. The Horrors: "Endless Blue"
Previously a pasty Killers imitator, the Horrors blew everyone away this year with the basically flawless Skying. "Endless Blue," with its dreamy brass samples and majestic guitar riffs, sounds like a lost U2 cut, or the auditory equivalent of seeing where the clouds drift away—until it turns into vintage Joy Division. Somewhere, Interpol is crying with jealousy.
41. Purity Ring: "Lofticries"
Montreal's Purity Ring sounds unearthly on this mysterious dance track about crying at a loft party.
42. The Internet: "Cocaine"
Odd Future "terrifies me," so I'll take this side project from members Matt Martian and Syd Tha Kid, thank you very much. Thanks to pristine production (R&B slow jams are always better when they have the boomerang twang of a Jew's harp), The Internet hits on the schizoid mania of love at first bump.
43. Reversing Falls: "Curse This Place"
Three scruffy boys from Montreal write a song about being trapped in a city they can't bear to leave. Then they shred all over it with a guitar line that marries Pavement to Jimmy Eat World.
44. The Weeknd: "The Party & The After Party"
Toronto's the Weeknd defined popped-bottle-ennui this year even better than Drake. But as R. Kelly once said, "After the party, there's the after party." With a perfect Beach House sample, Abel Tselfaye rattles off the drugs and bitches he's gonna run through, and details just how much dread he'll feel when he's finally alone.
45. Toro Y Moi: "Still Sound"
Chillwave was still happening in 2011, but there's something cooler and crisper in the way San Francisco's Toro Y Moi does it. "Still Sound" has a yacht-rock edge that you can dance to.
46. Silver Dapple: "Slip Stich"
Montreal breakout band Silver Dapple finds the warm and fuzzy heat of nineties shoegaze and add its own sublime innocence. Lovely and melancholic, it all comes down to the perfect drum work and sugary, feminine vocals.
47. Austra: "Lose It"
Creepy-crawly operatic art rock comes by way of Toronto's Katie Stelmanis, who builds her soaring vocals into statuettes. "Lose It" teeters on the precipice of piano concerto and Bauhaus-style goth rock, which is why critics lost it themselves.
48. Braids: "Plath Heart"
This group of Polaris nominees whose average age is probably twenty-two made waves this year thanks to sheer talent. "Plath Heart" is all lush proggy guitarwork, shrieking innocence and exuberant swaths of golden light.
49. tUnE-yArDs: "Bizness"
Afro-funk fusion never sounded as glorious or contemporary as this. tUnE-yArDs uses the call to arms of her own voice to create a swooning, gurgling brass frenzy that's political, yet personal.
50. Kent Odessa: "Getaway"
Full disclosure: this indie artist is my cousin Kent. But I would be lying if I said I didn't blast this hip-strutting take on Madonna's "Holiday" constantly this summer.
51. The Luyas: "Too Beautiful To Work"
Jessie Stein uses the modulations of her pretty voice to create a palpitating heartbeat of a song, offset by cinematic shivers of strings.
52. Miracle Fortress: "Possession"
Two cuts off a bonus EP of Miracle Fortress' Was I The Wave? made one of the biggest impressions on me this year. "Possession" is a coolly bittersweet love song ("Why should I fade away?" asks the chorus) that combines Graham Van Pelt's delicate vocals with psychedelic electro synths.
53. $100: "Waiting On Another"
Toronto's most tremendous alt-country act released the flawless Songs Of Man this year, full of teardrops on pillows and working-man laments on the Alberta tar sands. But I love the simplicity of the ballad "Waiting On Another." As always, Simone Schmidt's vocals will haunt you for days.
54. Fucked Up: "A Little Death"
David Comes To Life was a brilliant rock opera from hardcore's greatest innovators, Toronto's own Fucked Up. "A Little Death" is wild and loud but maintains its balance thanks to a sweet centre of lush guitar work.
55. Kurt Vile: "Baby's Arms"
Kurt Vile wrote a tender love song that doesn't want to stop holding you. It feels both dark and light.
56. Gil Scott-Heron and Jamie xx: "NY Is Killing Me"
Jamie xx secured the legacy of the late Gil Scott-Heron with a co-remix of his final album I'm New Here. Transforming "New York Is Killing Me" into a trance rave-up (get your subwoofer out, seriously), this track floods the dance floor with sound and pain.
57. Sandro Perri: "Changes"
Toronto jazz improviser Sandro Perri steals the song structure from David Bowie's "Changes" and breaks it down, adding proggy keyboard solos and sunny guitar, his own lyricism and pulsating heart.
58. Hooded Fang: "ESP"
Twee Ontarians Hooded Fang ditch the glockenspiel for a frothy slick of surf rock.
59. OG Melody: "Change Gon Come"
Indie Toronto musicians Thom Gill and Isla Craig teamed up for a sub-ironic nineties tribute called OG Melody. But sentiment won out when they crafted this heartfelt, completely earnest love song, which sounds like the slinky combination of Aaliyiah and Dirty Projectors. So sensual you'll need massage oil.
60. Bon Iver: "Calgary"
Justin Vernon retains his improbable falsetto but adds a dose of new-wave glam on this travel monologue about the Prairies. Fleshed out with electronica, Bon Iver finds something beautiful in all those wide-open spaces.
61. Colin Stetson: "Judges"
THAT'S HOW YOU DO CIRCULAR BREATHING, BITCH.
62. Dirty Beaches: "Sweet 17"
Dirty Beaches lead us all into Lychian overdrive with his sinister rockabilly track about Lolita love. The guitars soundtrack every dark swagger down a lost highway.
63. PS I Love You featuring Diamond Rings: "Leftovers"
Pals PS I Love You and Diamond Rings teamed up to write this song dedicated to friendship and next-day spaghetti, and then shot a video commemorating life on the road. Injected with glam-rock energy, "Leftovers" feels reminiscent of old-school duets between Lou Reed and Bowie, in which personalities clash and complement simultaneously.
64. Timber Timbre: "Bad Ritual"
The Polaris-nominated Timber Timbre retained its swampy rockabilly in this year's Creep On Creepin' On. The menacing "Bad Ritual" sounds like a stomping sock-hop of the dammed, thanks to a slinky sax solo and Taylor Kirk's lonesome vocals. Spine-tingling!
65. My Morning Jacket: "Holdin' Onto Black Metal"
A children's chorus and a barn-burning guitar solo help the southern-fried My Morning Jacket hold on to black metal without setting fire to any Norwegian churches. A lighters-up anthem if I ever heard one.
66. Cass McCombs: "County Line"
Cass McCombs released two sweet, solipsistic country albums this year. "County Line" is a cruise-control driving song about staring out your window and trying to piece your country together.
67. The Decemberists: "This Is Why We Fight"
The Decemberists got a mainstream makeover this year and charted number one on the Billboard chart. "This Is Why We Fight" sounds like R.E.M. at its heyday and makes the most of the band's hidden alt-country leanings.
68. The Kills: "Baby Says"
With a guitar line that riffs off "Exile On Main Street," this song shrugs sexiness.
69. Cults: "Go Outside"
I remember Christopher Weingarten maligning Cults as the twee-est excuse for indie rock since, I don't know, that band Tennis? But I like the fact that this song samples Charles Manson and then glockenspiels it up. We haven't heard such an icy boy-girl harmony since "Young Folks," and it totally makes me want to find out what a maxi skirt is, then buy it at Urban Outfitters.
70. Wugazi: "Sleep Rules Everything Around Me"
Probably the greatest mash-up this year came from some Vancouver DJs who married the Wu-Tang Clan with Fugazi to make... Wugazi! Every track is brilliant, but I like the low-slung funk of "Sleep Rules Everything Around Me."
71. Snoop Dogg with Wiz Khalifa featuring Bruno Mars: "Young And Wild And Free"
Two of the biggest potheads in hip-hop create an totally effortless track that champions binge-drinking and blunt-smoking as a way of life. I heard this song on a bus traveling around the Negev desert with forty-eight Jews and thought it sounded better than vintage Stevie Wonder. Snoop and Wiz have the best stoner chemistry since Harold and Kumar.
72. Florence & The Machine: "Shake It Out"
Even though Kate Bush released her own record this year, Ceremonials did everything about vintage KB better. "Shake It Out" has transcontential dance flair, a sweeping chorus and makes the most of Florence's flair for dramatics.
73. Lil Wayne: "Sorry 4 The Wait"
Everyone seemed disappointed in Lil Wayne this year, especially Lil Wayne. But there's something pretty adorable about releasing a long-forgotten mix tape from jail and titling it "Sorry 4 The Wait." This up-tempo rap set to Adele's "Rolling In The Deep" is a perfect match—both of them know what it's like to love and lose.
74. Ron Sexsmith: "Love Shines"
Myopic, potato-faced Ron Sexsmith is our own schlubby dark horse, but on his major-label debut, he teamed up with producer Mutt Lange and found his inner rock star. "Love Shines" is still sweetly melancholic, but boasts a newfound confidence that makes it uber-listenable.
75. Kreayshawn: "Gucci Gucci"
This internet hit went viral mostly because Kreayshawn defies description. But it's an incredible track about slagging off fake bitches who status-update their Fendi baguettes. Now everybody raise the roof: "I've the swag and it's pumping out my ovaries." (Probably my motto for 2012.)
Subscribe to Maisonneuve today.
Related on maisonneuve.org:
—Memory, Intertextuality and Rich Aucoin's We're All Dying to Live
—Arcade Fire, tUnE-yArDs and Growing Up
—Halifax Pop Explosion 2011 in Pictures