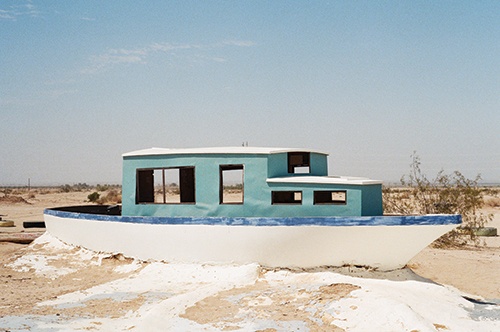 Photographs by Lauren Zbarsky.
Dead America
Photoessay by Lauren Zbarsky and Adon Moss.
A traveller's exploration of the unknown is usually founded in a desire to experience the new, the unique, the vivacious. Yet, along the seemingly endless roads of the Sonoran Desert in Southern California and Arizona, it is the old, the forgotten and the decayed that decorate the landscape.
Far south of the modern, glitzy cities of Los Angeles and Las Vegas, the desert encroaches on the remains of settlements past. Aged monuments wither slowly; the familiar facades of mid-century cafes, general stores and resort hotels have given way to garbage and graffiti.
Once full of promise, these buildings now imbue us with a sense of mortality. They make us wonder about what we've left behind—and they make us question what will remain of the cities we take for granted today. In the stillness of the Southwest's landscape, we consider our small place in history before we ...