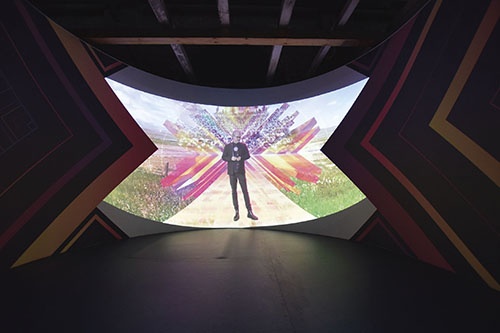 Image courtesy of UNCEDED, photography by Cueyo Laux
Cardinal Direction
In Venice, Christopher DeWolf reports, Indigenous architecture gets its due.
Canada's contribution to this year's Venice Biennale of Architecture is housed inside a brick chamber in the nine-hundred-year-old Arsenale, once the seat of Venetian naval power. Stepping out of the blinding sun into a humid, dark room, visitors are greeted by a video of Jane Chartrand, an Algonquian Elder, standing in a forest, wearing a white moosehide dress and a necklace of buffalo teeth—ceremonial clothing. "Welcome to the unceded territory of the Anishinaabe people," she says.
"Our Aboriginal architects have instilled in them—in their ancestral blood—of what they are building. They know how to build in the round, so the wind can gently go around it, instead of buffeting it."
Douglas Cardinal, the curatorial leader of the exhibit, is one of Canada's most celebrated architects. For a long time, he had another claim to fame: he was the world's only well-known architect of Indigenous ancestry. That could be a burden as much as it was a blessing. In 1996, when Cardinal was working on the Museum of the American Indian in Washington, DC, he gave an interview to the New York Times. "In Washington, it's okay to be an Indian," he said. "In Canada, it isn't. That's just about where it's at."
Times have changed—maybe. As Canada grapples with how to make amends to First Nations, Inuit and Métis peoples for how it has has oppressed, erased and marginalized them, Indigenous creative leaders from across the continent have flown across an ocean, to Venice, to offer one idea. Canada's national participation in the sixteenth Venice Biennale of Architecture, which opened on May 26, proposes an entirely new way of looking at the built environment, the physical fabric of our society. Or rather, not a new way, but an Indigenous way.
Unceded: Voices of the Land is unprecedented—it's the first-ever show dedicated exclusively to Indigenous architects, and it's being staged at the world's largest and most important architectural showcase. The exhibition raises an obvious question—what exactly is Indigenous architecture?— and, in answering, suggests ways forward for a country whose colonial structures remain entrenched.
Unceded's curatorial team is led by Cardinal, who is of Siksika ancestry. He is best known for designing St. Mary's Church in Red Deer and the Canadian Museum of History in Gatineau; the latter's sinuous limestone form made him a "starchitect" before the term had even been coined. He is joined by Siksika curator Gerald McMaster and Métis architect David Fortin, who put the show together with sixteen other Indigenous architects from Canada and the United States.
It's an unusual exhibition for Venice, not only because of its content, but because it eschews architectural drawings, models and installations, even the abstract and conceptual sort favoured by many other Biennale exhibitors. Launched in 1980 as a spin-off of the 123-year-old Venice Biennale of Art, the exhibition is a place where architects gather to ponder design solutions to the world's problems and to show off their work.
Each of the Biennale's sixty-three participating countries sponsors a national exhibition, many of which are housed in the Giardini della Biennale, a lush park filled with a theme park array of pavilions. Scandi minimalism is on display for Sweden, Norway and Denmark; Czarist pomp for Russia; Palladianism for the United States, as if Thomas Jefferson's neoclassical estate Monticello had embarked on a quest to find its roots in Europe. It's a funny and outdated way to stage an exhibition, but, much like the Olympics, nobody seems too interested in breaking the shackles of twentieth-century nationalism.
Nobody, that is, except Douglas Cardinal. Not only does Unceded erase the boundary between Canada and the United States, it does away with the attention-grabbing, CV-bolstering models featured in other exhibitions. "Douglas said he wanted an exhibition that could fit into his pocket," says Ouri Scott, a Tlicho Dene architect based in Vancouver who is participating in the Biennale. The result is a kind of immersive video experience that takes visitors through the past, present and future of Indigenous architecture.
After viewers listen to Jane Chartrand's greeting, they see display panels arranged with Cardinal's signature curves—a rebuke to the heavy military architecture of their surroundings—that transform the cavernous room into a guided tour, taking visitors through a series of gathering places that echo with voices and, towards he end of the journey, the muscular rhythm of drumming. "You can't look at a building in here without hearing the music and seeing the land," says Fortin. "You're getting a taste of a different way of architecture." Video projections are embedded in the display panels; all told, the exhibition's video content totals about four hours, making it impossible to fully absorb without repeat visits.
Stories form the core of the experience and offer a way to carry the weight of experience and ideas between generations. Walking through, a visitor will hear about the shattering experience of residential schools, and about the prefabricated housing—lookalike boxes imposed from above— provided as shelter for Indigenous communities. Not only is prefab housing devoid of local roots, much of it has, over the years, descended into severe disrepair as government agencies fall behind on upkeep. Visitors also hear about the diversity of traditional Indigenous forms of architecture, such as the roundhouses that formed the physical heart of many Anishinaabe communities, and the totem poles that architects like Patrick Stewart, who is Nisga'a, have reclaimed from hollow symbolism. Underpinning all of this is a throughline of respect for elders and their stories—about tricksters and heroes and animal spirits—that serves as a kind of cultural framework for community life.
"For a lot of [Indigenous] people, culture was divorced from buildings—buildings were something imposed from outside the community," says Daniel Glenn, a Seattle-based architect from the Apsáalooke-Crow nation in Montana. Unceded documents the ways in which Indigenous architects are re-linking the built form of Indigenous communities by drawing on cultural pillars like storytelling, spirituality, and ceremony.
Sitting in an outdoor café in the Arsenale, David Fortin and a group of co-exhibitors— Ouri Scott, Chris Cornelius, Patrick Stewart and Daniel Glenn—discuss what "Indigenous architecture" actually means. Scott describes her collaborative design process as she works with the Shxw'ōwhámél First Nation, in British Columbia, to build a community centre that will have space for cultural events and traditional activities. It's a place where "every mountain has a story," she says. "The role I have is of a facilitator. That process makes [the outcome] more appropriate, it makes it more sustainable, it makes it more meaningful."
Fortin says he is often asked how that approach is different from a non-Indigenous architect practicing community-based architecture. Glenn offers an answer. "The difference is that we are drawing from an ancient culture," he says. "We don't have to look for some esoteric influence to create a metaphor for the architecture, because the metaphor is the culture itself. We are setting the stage for a cultural revival."
Many visitors might find Unceded inscrutable, especially given the format. Video is now ubiquitous in our lives, making it easier to gloss over, especially within the information overload of a Biennale. But the exhibition is uncompromising in its aversion to materiality. It's the ideas—and the stories—that count.
Christopher DeWolf is the author of Borrowed Spaces: Life Between the Cracks of Modern Hong Kong. His previous piece for Maisonneuve was "Good Night and Good Luck," (Issue 37).