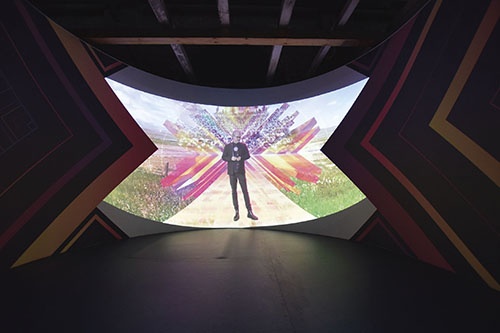 Image courtesy of UNCEDED, photography by Cueyo Laux
Cardinal Direction
In Venice, Christopher DeWolf reports, Indigenous architecture gets its due.
Canada's contribution to this year's Venice Biennale of Architecture is housed inside a brick chamber in the nine-hundred-year-old Arsenale, once the seat of Venetian naval power. Stepping out of the blinding sun into a humid, dark room, visitors are greeted by a video of Jane Chartrand, an Algonquian Elder, standing in a forest, wearing a white moosehide dress and a necklace of buffalo teeth—ceremonial clothing. "Welcome to the unceded territory of the Anishinaabe people," she says.
"Our Aboriginal architects have instilled in them—in their ancestral blood—of what they are building. They know how to build in the round, so the wind can gently go around it, instead of buffeting it."
Douglas Cardinal, the curatorial leader of the exhibit, is one of Canada's most celebrated architects. For a long time, he had another claim to fame: he was the world's only well-known architect of ...