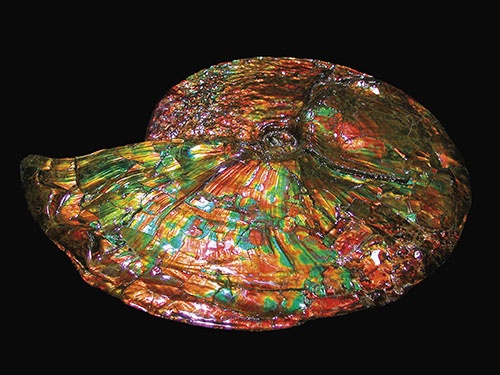 Under Pressure
Sacred to Blackfoot, saleable in Banff. What happens when a rare fossil transforms into a gemstone?
It's midnight on the St. Mary River and a middle-aged man is scanning the riverbanks by flashlight, searching for glints of rainbow among the grey shale—ammonites. More than trinkets, these fossils can fetch large sums of money at auction; an ammonite the size of a trash can lid could go for up to $330,000. While legal miners uncover them in daylight along this peaceful prairie river in southwest Alberta, illegal collectors use the cover of darkness to trespass, seeking their treasure.

Ammonites look like giant snails. If the shell is intact, sellers can spend up to 120 hours preparing a specimen for auction. If the shell is broken, the shiny rainbow pieces, bearing the name "ammolite," can be manufactured into jewellery, a hot item in a globally surging market. Alberta is the richest source in the world—one of the only sources in the world—for the ...