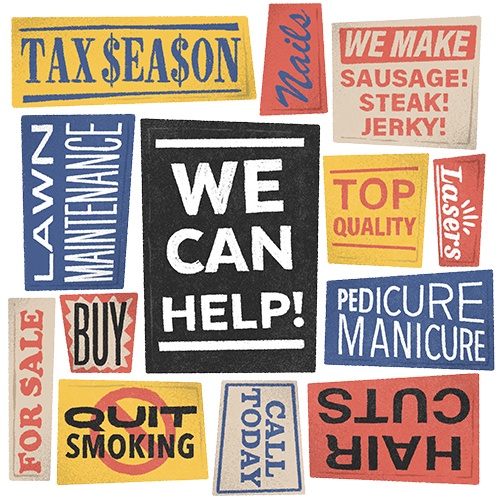 Illustration by Alexander McAskill.
Laser Quit Smoking Massage
Cole Nowicki reads between the lines on a Saskatoon street.
The houses on this street aren't just houses. The casual observer will note that, yes, like most homes in this Saskatoon neighbourhood, they have creaking screen doors, front lawns with patchy brown grass yawning green with spring, and probably a rec room in the basement with one of those little plastic basketball nets pasted above the door frame. 
But the careful observer will read the signs to get a fuller understanding of what these places really are. Like, literally, read the signs. Small, rectangular and colourful, they speckle the stoops and windows of these squat houses all along 8th Street East. Bold, all caps, sans-serif type sitting on neon oranges, yellows and greens, reading things like:
NAILS!
MANICURE! 
PEDICURE!
GREG'S TOP QUALITY
LAWN MAINTENANCE 
SERVICES INC.!
WE MAKE: 
SAUSAGE!
STEAKS!
JERKY!
IT'S TAX SEASON!!
DON'T WAIT!!
WE CAN HELP!!!
These houses serve as storefronts, genuine home ...