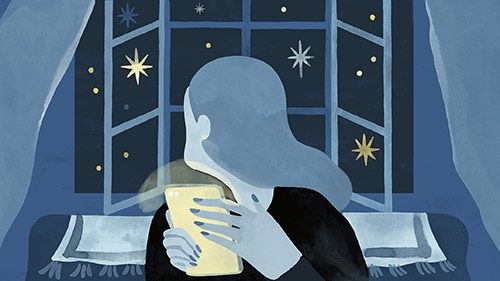 Illustration by Tallulah Fontaine
Sleep Shame
Tara-Michelle Ziniuk knows rest is essential. So why does she feel guilty about getting it?
The unlikely things I've been stockpiling through the pandemic are rice cakes and clementines, neither of which I'm a huge fan of. Most mornings when I wake up, there's a spread of Styrofoam-like rice cake crumbs and orange peels on a plate on my kitchen table. 

This was supposed to be the year my ten-year-old daughter started walking herself to school from our Toronto apartment. Instead, since she's been in school virtually, it's wound up being the year she's started sorting out her own breakfast as I try to sleep. Hence the aforementioned grocery items, neither of which requires cooking or cutting. 
The past year has me exhausted. Or, rather, it has me admitting I'm exhausted. There's been something about slowing down and only trying to meet my most fundamental needs—food, water, an income and housing—that has helped me realize ...