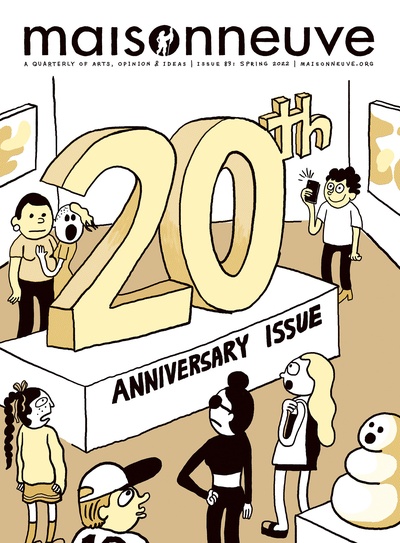 Our Spring 2022 Issue
April 5, 2022
Cover: We're twenty! On our cover, artist Walter Scott and art directors Rachel Wine and Brian Morgan show Scott's character Wendy contemplating this monumental occasion. Our twentieth anniversary issue takes a close look at the state of the arts in Canada. It feels right to have Wendy—a true artiste, iconic Montrealer and noted partier—celebrate with us.
Settler arts institutions keep using the language of decolonization, writes Ossie Michelin. Yet their efforts are falling short.
Sexualized violence is rampant in comedy, reports Madison Trusolino. Is anything changing?
Yellowknife eschews art-world elitism, writes Sarah Swan. Could it be Canada's capital of Outsider Art?

Anupa Mistry considers Toronto's topographies of grief, art and spectatorship.

Is Canadian literary criticism on its last breath? Emily M. Keeler assesses.

Phillip Dwight Morgan speaks with M. NourbeSe Philip about the mistranslation of Zong!
Jean Marc Ah-Sen interviews Sheila Heti about her latest book, Pure Colour.
Maisy staff past and present reflect on the magazine's twenty years and their hopes for the next twenty.
Melissa Bull writes a goodbye letter after ten years as our Writing from Quebec editor, and Katia Grubisic takes over.
Plus, new photos by Brendan George Ko, poetry by Victoria Mbabazi, and more!
---
---