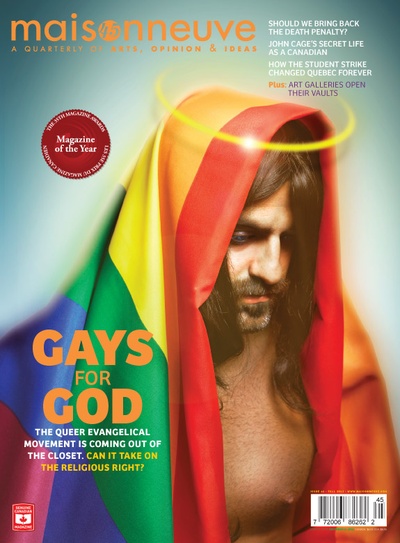 Our Fall 2012 Issue
Sept. 10, 2012
Was Jesus gay? That's the implicit question posed by our cover, which depicts the Son of God wrapped in a rainbow shroud. The image, photographed by Kourosh Keshiri and designed by Anna Minzhulina, is arresting and provocative. But that raises another key question: why should it be controversial to portray Jesus as a gay man? Christ is love, after all—and, as Clancy Martin reports in "Gays for God," Maisonneuve's Fall 2012 cover story, a growing movement of queer evangelicals seeks to permanently banish homophobia from the American religious right. Although many liberal churches promote gay rights, this movement is uniquely ambitious: it challenges conservative evangelism from within the faith, putting itself on a collision course with the country's most right-wing religious leaders. As the US presidential election approaches, cultural issues like same-sex marriage have galvanized voters on both sides, but gay evangelists offer a third way: it's possible, they say, to be both queer and Christian. After all, God made us who we are.
Also in this issue:
Chris Hampton explores the hidden world of art storage.
Eric Andrew-Gee wonders why Toronto's Portuguese students have the city's highest dropout rate.
Regan Burles asks if it's time for Canadians to talk about the death penalty.
Jonathan Montpetit reports from the last days of Canada's war in Afghanistan.
Kaitlin Fontana on the link between stage fighting and real-life violence.
Jesse Rosenfeld reports from the front lines of Quebec's student strike.
Finn O'Hara documents Ontario's traditional county fairs.
Valérie Darveau on how she came to support disruptive protests.
Crystal Chan discovers John Cage's secret life as a Canadian.
Michael Nardone on his hopes for Quebec's post-strike future.
All this, plus new fiction by Sara Freeman, new poetry by Ricardo Sternberg, a new comic by Marc Bell, spot illustrations by Vanessa Davis, the Book Room and the Music Room!
On newsstands everywhere September 17. Order this issue now.