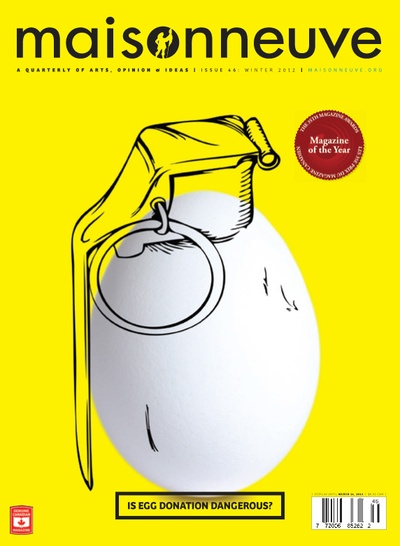 Our Winter 2012 Issue
Dec. 10, 2012
Egg donation is a revolutionary medical procedure that makes parenthood a possibility for the unhappily childless. But how much do we really know about its dangers? The respected medical journalist Alison Motluk has spent several years talking to donors and doctors, and, in "Is Egg Donation Dangerous?", Maisonneuve's new cover story, she concludes that we're not doing enough to protect the women who risk their health to help other people bring children into the world. On our cover, art director Anna Minzhulina has cleverly summed up this sentiment by transforming an ordinary chicken egg into a grenade. (This issue also marks a change in Maisonneuve's cover design. We've increased the size of our logo, and incorporated the issue number and website alongside the "A quarterly of arts, opinion and ideas" tagline. On newsstand and subscription copies, we've also returned to using what's called a "half cover" for headlines, allowing the cover image to speak for itself more clearly and boldly. We hope our readers like these updates as much as we do.)
Also in this issue:
Andrea Bennett investigates the post-G20 rise of the Canadian police state.
Susan Olding explores what Anna Karenina taught her about infidelity.
John Semley on how Tumblr is ruining the internet.
Ryan Healey tracks the Harper government's war on foreign strippers.
Michael Harris wonders why he's so attracted to physical difference.
Emily M. Keeler on the bizarre magnetism of taxidermy.
Aaron Vincent Elkaim photographs the last Jews of Morocco.
Raymond Bock ponders the unexpected similarities of Quebec and Iceland.
Kelly Ebbels goes deep inside the Vermont separatist movement.
Correy Baldwin solves a historical mystery in his Montreal neighbourhood.
All this, plus new fiction by Harold Hoefle, new poetry by Sara Peters, a new comic by Marc Bell, spot illustrations by Vanessa Davis, the Book Room and the Music Room!
On newsstands everywhere December 17. Order this issue now.