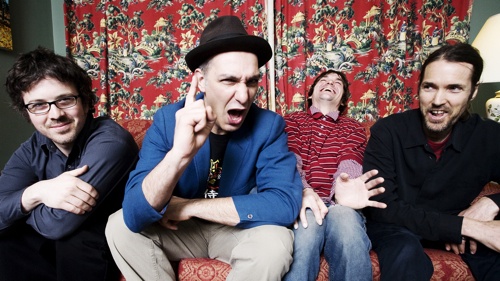 Interview with Dave Bidini
Maisonneuve contributor John Semley chats with Dave Bidini about his new album, The Land Is Wild, and his forthcoming book.
Though the Rheostatics may have split in 2007, the group's former guitarist, vocalist and songwriter Dave Bidini remains an enduring presence in Canadian culture. Following the collapse of Rheos, Bidini picked up the pieces and began recording and touring with the newly-formed Bidiniband, featuring Paul Linklater on guitar, Doug Friesen on bass, and fellow ex-Rheo Don Kerr on drums.
Continuing the Rheostatics' tradition of songs dealing with our home and native land, Bidiniband's The Land Is Wild namedrops Molson Export and Labatt's Blue on "We Like to Rock" and the "junkie hookers" at Toronto's Coxwell and Gerard intersection on "The Continuing Story of Canadiana and Canadiandy" (a morbidly realistic ballad for "two kids in denim and plaid"). And beyond his prolific musical output, Bidini has also the authored eight books and two plays, and contributed to the print edition of Maisonneuve.
Like his work with the Rheos, which ran the gamut from odes to Wendel Clark to Gordon Lightfoot covers to an album of music inspired by the Group of Seven (appropriately titled Music Inspired by the Group of Seven), Bidini's writing engages with the issues, traditions and tokens that constitute Canadiana. 2001's Tropic of Hockey, for example, recounts Bidini's frustration with NHL politics in the late 1990s, and his search of a global hockey culture unsullied by all the corporate sponsorship and highlighted hockey pucks designed to make the game easier to follow for an American television audience. His quest to explore how the rest of world understands Canada's national pastime led him everywhere from Hong Kong to Transylvania.
(Read Bidini's Maisonneuve column about visiting Mongolia)
His latest sports travelogue, Home and Away: Adventures at the 2008 Homeless World Cup, slated for release from Greystone Books, took him to Australia, where he immersed himself in an international competition of street soccer teams. Maisonneuve contributor John Semley recently chatted to Bidini about his new album, The Land Is Wild and his forthcoming book.
MM: So after the Rheostatics called it quits in 2007, how'd you set about assembling the Bidiniband?
DB: Well, I didn't really assemble it. It's weird. It just sort of happened in the sense that, the Rheostatics weren't going to be concerned. So I just started playing with my friends, without even thinking about making a record or taking it on the road. And we were in the studio, recording a little bit and basically having some fun, and I liked where it was heading. We liked what was happening on tape, and it encouraged us to do a little more, and before we knew it, we were halfway towards making a record.
MM: Why "Bidiniband"? Why just go the more traditional singer-songwriter route and record and tour as Dave Bidini?
DB: Because it's a band. It's four friends, really. I'm not really a solo guy.
MM: A lot of the times the whole "Firstname Lastname" thing tends to efface the other people involved.
DB: For sure. And everybody has contributions. I like band material. I like playing with other people.
MM: On "The Land Is Wild," you seem to still be almost obsessed with themes and people that are distinctly Canadian. But not just at some surface level where it's all beavertails and toques and chest-beating for the Leafs. What kind of stuff inspires you, lyrically?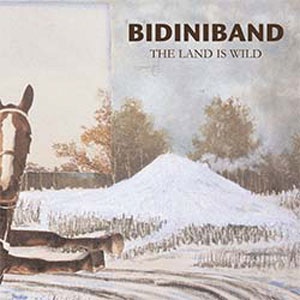 DB: Well, I don't know. I can get ideas for songs from anywhere really. I mean, the Bryan Fogarty song [The Land is Wild's title track] is a story that a friend of mine had told me. All of the lyrics tend to come from real places. Some lyrics are an excuse for short stories. Others are a chance to sort of scream. And others offer an opportunity to put together a longer narrative.
MM: It's great though. It's secret, hidden history stuff. It almost seems as if you're rummaging through the stacks of old local newspapers for material, say for the cannibalism story in the opening track "Desert Island Poem."
DB: Yeah, and that's sort of a true story in a way. I mean not the cannibalism part. But one time the Rheos were stranded in Drumheller [Alberta] and we were listening to the radio and we heard this story about that plane that crashed in Alaska. And we began to wonder what would happen to us if we never got out of Drumheller.
MM: Your previous book, 2007's Around the World in 57 ½ Gigs, chronicled taking your music around the world as a solo performer. What did you gain from that experience? Did it offer any new perspective for you as an artist or performer?
DB: It did, yeah. For me it was my way of sort of walking through the forest alone at night, you know? But surrounded by predators. That's what my experience touring solo was like. It was terrifying. But I had to go through it, and I didn't necessarily want to go through it at home, so I thought I'd go through it elsewhere, where I wouldn't necessarily be judged. It was also a way of exploring different cultures. I learned a lot about how hard it is to do something on your own, and that's ultimately what made me want to form a band again. But it's also about cultural curiosity and the celebration of travel, the opportunity to go to new places and return to places.

MM: And I know that when you launched the book in Toronto you did a reading at Pages bookstore on Queen St. West in Toronto.

DB: Yeah, right in the window there.

MM: Well there's been a good deal of local press lately about Pages, this kind of Toronto institution, closing its doors because they can't afford that. How did you feel when you heard that?

DB: It's a drag.

MM: And what about the new book that you're working on. Have you finished it?

DB: I'm actually just finishing it now. It's coming out this fall, actually. It's the Homeless World Cup book, following the Canadian team at the Homeless World Cup last December in Melbourne.

MM: Care to say a bit about the Homeless World Cup? I mean to be honest when I heard about your new book it was the first I've ever heard of it.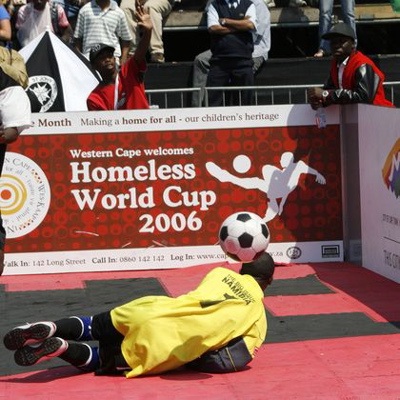 DB: Well, it's street soccer teams, or homeless soccer teams from shelters, competing on an international scale. Well, it's not really about winning or losing in any great degree. In some cases it is, which is a bit problematic. But mostly it's about all these athletes. It was like witnessing a living novel, you know? All these incredible people and all these incredible stories gathered in one place.

MM: How did you first come to be interested in the event, or in Team Canada specifically?

DB: I'd heard about these guys, about the team and the program. And I got to know the team, and I went with them to the national championship. And we started hanging out and I got to know everybody, and there were a lot of great stories to tell.

MM: Judging by the title, it seems as if Home and Away focuses on Team Canada. But did you have the chance to meet other plays, and other teams, from other parts of the world?

DB: The Canadian team is the focus of the book, but it also draws attention to other people, and other stories from around the world.
MM: In terms of logistics, how do these teams get the money to travel to events as far away as Melbourne?
DB: For the most part it's private donations. They do fundraising. I mean in every different country there's different ways of fundraising. In fact, in some countries it's sponsored by national sporting associations, but most aren't.

MM: Considering your other books and writing projects, there seems to be a marked interest in both sports and travel writing, which Home and Away seems to reflect.
DB: A lot of it has to do with the fact that this genre of book doesn't really exist. I mean there's plenty of sports writing anthologies and plenty of travelogues, but very little like this. I did a similar thing with Tropic of Hockey and [2004's] Baseballissimo, I guess. These books are kind of similar to the new one in that I figured each one would be something different. Because for a sports book, these are not exactly typical settings. I'm always excited to be exploring that.