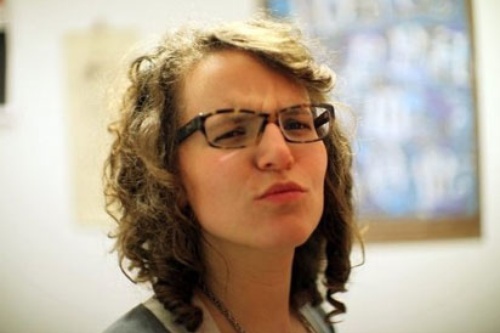 Pop Montreal: The Problem-Solver
An interview with Pop Montreal producer Patricia Boushel, who brings us an insanely busy insider's look at the city's best festival.
Patricia Boushel has been a producer at Pop Montreal for three years and my flatmate for one month. At this time of year, it's a tragic combination: the girl is never, ever home. So yesterday, I set my alarm for the crack of dawn to catch her at breakfast and find out how she's holding up.
Sarah Colgrove: Good morning. Want to tell me what you're doing right now?
Patricia Boushel: At the moment, I'm going over really cloudy lists of things that will go wrong.
SC: Things that will go wrong, or things that have already gone wrong?
PB: [Pony the cat meows loudly.] For example, I haven't loved Pony enough in the last month and she's really mad at me. No, things haven't gone wrong yet, but there are things that will go wrong. Most people are there to make sure that people have a good time, that the musicians have great experiences, but some of us are there to solve problems, and I'm probably one of the biggest hole-filler problem-solvers.
SC: What is going to go wrong?
PB: Well, maybe there will be some objects that are indispensable for the show that need to be found and brought somewhere. Last year we had a show in the Masonic temple, where you're not allowed to touch the light board. Basically you can turn the lights on or you can turn the lights off, so anyone who wants atmosphere has to improvise. At 4 p.m. on the night of the show, I was called by eight people to bring in loads of house lamps.
SC: And the police just shut down Zoobizarre a few days ago, so that's one thing that's already gone wrong.
PB: We had three nights of shows there and we had to figure out where to move those shows. We've found a club that we weren't looking to book for this festival—Saphir—which is in the more "tolerable " zone of culture as decreed by the morality police: lower St. Laurent. So that's been a problem.
SC: Would you like to tell me what you're wearing right now?
PB: Um, an oversized, elegant lady's sweater. [Pause.] And that's it. [Laughs.] Kind of wanted to live on the edge a little this morning. Woke up, felt a little saucy, gave my day attitude.
SC: It's your first day today!
PB: I was lying in bed this morning thinking: What does one wear on the first day of the festival? One's good clothes, I'm thinking, but I don't really have any of those right now.
SC: Because they are all dirty?
PB: No, I just haven't gotten any. It's like starting school: you know that whole panic you had, how you had to have that outfit? None of us have had that time to get that outfit, or to, you know, get our hair cut, or get enough sleep that we don't have zits, or eat well enough so that we don't feel like fainting every twenty minutes. Going into this day, I'm trying to give myself an appearance of togetherness.
SC: Yeah, we haven't seen you around too much.
PB: Most of us have been working until one, two in the morning, then getting up at six or seven and going straight to the computer. The greater capacity we have to communicate, the more projects we try to undertake—and I think that's true for any enterprise. So now we have all these shows going on and all these artists coming in, and we just have to communicate with so many people. That's probably where we spend the most amount of time.
That, or doing the things you won't notice. You'll arrive at the artist's registration of this old house at the corner of Sherbrooke and Clark—which is where the city's first Arts Council meetings were held a hundred years ago—and it's this gorgeous space but it's totally derelict. There's all this work that goes into it: getting the art stationary, the fire extinguishers, the tents for barbecues, and the right people working the space. A lot of time is spent filling up these old empty spaces, and new empty spaces, with pertinent things.
SC: How long have you been working those hours?
PB: A few weeks? It fluctuates. As of August, when we print our program, the schedule is locked, so from late July to late August, we're figuring out the schedule and the pitch is high. The people who put together the literature get the content so late, so those people spend an entire week not sleeping. And then August is hair-pulling with logistics, because when the event arrives we don't want to have to make a hundred corrections to the program. But, invariably, artists bail and we make mistakes because we are staying up all night and our eyes are crossed.
Then there's September, lining up all of the production logistics, all the details. There's the macro level that's been worked on throughout the whole year, but come September, you're getting in line the eighty contract workers and two hundred volunteers that are helping to pull it off, and planning and planning.
So now, I'm here now the first morning of the festival. Today's a slow day. The big thing happening is the opening party. It's in an old flourmill, an industrial space where we had to bring in curtains and build walls, and now we're bringing in art installations, film productions, sound systems, a bar, and a fashion show…and that's all been happening since noon yesterday. So there are probably people there who haven't slept yet and won't sleep until tomorrow.
SC: What are you looking forward to?
PB: I'm looking forward to [the Film Pop project] Making Music being over and done with. It's one of my most challenging projects ever. It ends on Thursday, and I'm really grateful because the last two years it's lasted until the Sunday of the festival.
And then after that's done, I get to run down to Fever Ray, which is awesome 'cause Kelly will be there [laughs], and you, and Drew, and Sean. There's so much good stuff going on! There's a really great disco dance party, really great world music on Saturday night at Club Soda—at the same time, unfortunately, as the Think About Life show on the Réunion stage—and secret parties, after-parties, stuff like that.
SC: What is the rest of the year going to be like?
PB: Trying to find money. The programming and stuff is year-round, and the winter is the high season for grant-writing and preliminary sponsorship outreach. It's so seasonal. In the winter it's really low output, but you're being reflective and thinking about what needs to happen to absorb the changes that need to be made. It's a young institution, and we're trying to grow, so there's a lot of talking that goes on.
SC: Introspection.
PB: Yeah, introspective months. And then during those months we also try to get out of town and go to other festivals and see what we can learn from them. Right after Pop there's CMJ in New York, so that's where you get to live the festival after putting on our own festival.
SC: [Pause. Spoons in bowls.] Hey, do you want me to make coffee? It will be ready for you when you get out of the shower?
PB: I had a shower.
SC: Oh. You've been up a while.
PB: Yeah, I've been doing emails. I just need to do my hair and throw on clothes and run out. Thanks for having mushy cereal with me!
SC: Uh, anything else before you go?
PB: I get to pick up Vincent Moon today at the airport! He's a filmmaker from Paris, and he makes these pretty important—I dare say revolutionary—little pieces of art that are web-based: magical moments that started as being impromptu live musical performances outside in the street. For example, Andrew Bird playing his violin in the streets of Montmartre. They've filmed every indie artist, and now they're coming to Montreal to do a series on local artists.
[The phone rings.] I'm also going to be killing my phone because I'm probably going to get a brain tumour spending so much time on it. And I'll be trying to be courteous and take my time with people, to be warm and human, because it's too easy to be short and efficient.
And, I'm going to try and look happy because I am happy: it's my favourite festival so far, my favourite edition of Pop Montreal! I guess I haven't been this excited in a long time.