Mile End vs. Morality Squad
Montreal is spending millions to brand itself a "republic of culture." So why are police cracking down on the city's best creative hotspots?
MOST BAR OWNERS don't wake up at six in the morning to pore over municipal zoning regulations. Mauro Pezzente is an exception.

After a challenge from police over the operating license of his popular cafe and small venue Casa del Popolo, the dark-haired musician found himself mired in the zoning and licensing laws of Mile End, a neighbourhood on the northern edge of Montreal's artsy Plateau borough. And until he could square things with the city, Pezzente—who, with partner Kiva Stimac, also juggles two other local hangouts, an annual music festival and a two-year-old son— was forced to cancel all the venue's live shows.

Casa recently received proper licensing and kicked off its unofficial reopening with a raucous concert. But it wasn't an easy process; the no-shows rule lasted from March until September. "It probably killed a third of our business for the first few months, and that's not including the distributors, the waitresses," Pezzente said. "Everyone was affected."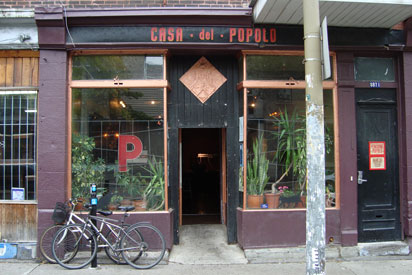 But Casa del Popolo, which launched the careers of countless local bands, is not the area's only hotspot now under the microscope. The police's Morality, Alcohol and Drugs squad has recently scrutinized a handful of small-scale, independent joints. Neighbourhood patrons have noticed—and whispers of a crackdown are circulating.

Casa's licenses were certainly not in order. The establishment had a restaurant license, meaning customers ordering booze should have been required to buy food, and it had nothing even approaching a salle de spectacle license. (Some such restaurants have a limited license for musicians—for example, for a violinist to serenade diners while they eat. Casa didn't even have that.)

But, Pezzente says, in nine years of annual visits, the police never asked him to upgrade his license until 2008. And le Cagibi, another Mile End resto-bar that bent licensing rules, attracted police attention at around the same time.

"We only deal with undercovers," said Jess Lee, a young, friendly co-owner of the fashionable cafe and small venue space. "Sometimes we don't even know when they have come in or what the problem was. But we know it was all at once in the neighbourhood, and very systematic."

Le Cagibi, which has a combined restaurant/small salle de spectacle permit, would prefer to sell lighter foods like soup or cookies with alcohol. But it faced misunderstandings with police over portion sizes—bizarrely enough, since its foods are all vegetarian. "They didn't really understand that beans and rice might be a complete protein," Lee said regretfully.

Richard Martineau, the head of the Morality, Alcohol and Drug squad, told Voir earlier this year, "If the police are more present in the area, it's because we've received more complaints…. It's clear that as long as there is a cohabitation of licensed spaces, of condos and of residences, it's normal to receive more complaints, especially for noise. But we're not there to be on the backs of the proprietors of bars and venues. We're there for understanding and cooperation."

Yet Lee and Pezzente both say they've had few noise complaints from neighbours, and with a multimillion-dollar revamp of the city's entertainment district under way, critics are questioning the city's motives. Montreal may just be enforcing the law. But this is an odd time to curtail creativity—and in Montreal, unsanctioned arts have long drawn heat from City Hall.


MONTREAL HAS ALWAYS been an artists' town. They come for cheaper costs of living, and they thrive, perhaps, because of the city's innately complex cultural landscape. The late seventies saw a popular disco scene, followed by new wave and punk, and post-rock flourished during the late nineties and early aughts (Pezzente himself played bass in the influential Godspeed You! Black Emperor). Though the international buzz has quieted over the last five years, Montreal remains Canada's independent music capital; this is encouraged in part by the Pop Montreal festival, and by venues like Casa del Popolo, neighbouring Sala Rossa (also co-owned by Pezzente), newer spots like Zoobizarre, and loft spaces that host concerts of dubious legality.

But artists and musicians here were never safe from the poor planning, unchecked police power and gentrification that plague maturing urban districts. Sixty years ago, under the direction of famed mayor Jean Drapeau, the same Morality Squad that now prowls Mile End's venues also quashed the vibrant jazz bars and burlesque houses that made Montreal famous worldwide. Some venues also suffered licensing troubles during the late 1980s, back when many punk and underground venues were housed downtown. And during the 1990s, bars in the burgeoning Plateau began introducing crippling "pay-to-play" policies, pushing concerts inward to lofts and apartments. It was in such spaces that bands like Godspeed You! Black Emperor, and later Arcade Fire and the Unicorns, were born.

"It was a real punk culture, a real DIY thing. We loved it because the money stayed within the community," said Louis Rastelli as we chatted over beers––plus mandatory sandwiches––at Casa del Popolo earlier this summer. Rastelli is a local author, head of Archive Montreal, and the former editor of the groundbreaking Fish Piss zine. His recent novel, A Fine Ending, chronicles a twentysomething Montrealer drifting through local artists' circles in the nineties.

In those years, Rastelli told me, rents had bottomed out and the cheapest apartments turned up in the Plateau area––so cheap, he claims, that landlords would actually offer two or three months' rent free. But the pendulum swung back. Cops didn't like the loft parties, and would break up the shows, imposing harsh infractions on hosts. "People would get these huge fines—three, four grand. I had friends who worked community service for years to pay it back," Rastelli said. "We realized we had to find a place. So we were all psyched when Mauro and his girlfriend bought the place [Casa]. We needed it."

Elsewhere, gentrification forced visual artists—ever shuffled to the fringes— away from some of the former office spaces they inhabited during the 1990s downturn. Building pressure downtown grew in the early 2000s, and artists' enclaves in old towers and industrial spaces were replaced with condominiums.

"It was a crisis for these communities. They had to scatter elsewhere—they went north, and east," said Nadine Samuel, a local artist based in Mile End's St. Viateur East industrial buildings, where many relocated. "Now there is almost no one downtown."

ARTISTS AND MUSICIANS were lucky to find spaces in the nineties, but the recent controversies in Mile End may point to more tough times ahead for fringe arts. In 2002, the city declared its intent to become a "republic of culture." It formed a pseudo-governmental organization called Culture Montréal and undertook the schematic development of the city's edgier downtown east side, re-branding it as an entertainment district called the Quartier des spectacles (QDS). The multimillion-dollar project will see massive investment in the area, but it's attracted criticism from independent artists, who say it sidelines cultural innovators in favour of cash cows like Just For Laughs and the Jazz Festival.

Rastelli publicly stuck out his neck against much of the development planning—which threatens with the wrecking ball smaller downtown venues and older immigrant-owned businesses —at heated public consultations earlier this summer. He's concerned that the same bad planning in the Quartier des spectacles is also at work farther north, where, he argues, the city sees under-the-radar subcultures as obstacles rather than partners.

"If I know Montreal, what's going to happen is they're going to go way too far in that direction; all these places are going to be shut down from permits or inspectors, property taxes are going to fly up 'cause there'll be too many condos and towers, and it'll be overbuilt," he said of the QDS. "Do we have to that every time? Lose valuable places, overprice rents, kick out these people, and then it's vacant for years? I'd just like to see, in my lifetime, all these stupid mistakes stop happening."
Pierre Fortin, head of the QDS, disagrees. He described his project as "the heart of cultural Montreal," and the lively spaces to the north as "the off-QDS. You have cultural vitality on the Plateau, on St. Laurent. The idea is not to concentrate or to absorb everything in the Quartier des spectacles," he insisted.
Indeed, things may not be so dire. Casa has begun booking shows again, and despite setbacks, new venues continue to emerge. The artists in the studios and galleries on St. Viateur East, fearing the city's plans for yet another re-development scheme, have organized themselves to fight for their spaces. And the recession has slowed down development citywide.

For his part, Pezzente doesn't blame the city for enforcing its rules, and says zoning restrictions make for good urban planning. But he wonders why Casa was singled out when, in his estimation, the vast majority of the city's venues are run without proper licensing—and, particularly, when the city is supposed to be promoting the arts.

"I don't know what their objectives are. I don't know if the City of Montreal has sat down with the Morality Squad and said, 'Hey, we're building this Quartier des spectacles now, we know there's all these small illegal places being run,'" he said.

"The problem is," Pezzente continued, "why is the city giving millions of dollars to the Quartier des spectacles when there are all these small venues everywhere in the city that just need a little push?"
Pick up Issue 33 of Maisonneuve for Kelly Ebbels' feature on the Quartier des spectacles controversy.