Jokes From the Underground
Montreal's indie comedy scene is turning stand-up upside down.
EVERY FRIDAY NIGHT in a paint-spattered loft on Montreal's Boulevard St. Laurent, George Hamilton Braithwaite kicks off the Too Much! comedy show. Filled with ratty couches and in-progress artworks, the second-floor venue feels more like a house party than a conventional comedy club. A performance space illuminated by a single spotlight occupies one end of the room, while guests and comics mingle in the kitchen at the other end. Because it's a private residence, people are allowed to smoke, and while most comedy shows angle to sell drinks, guest at Too Much! bring their own booze.
"There's a different feeling to it," Braithwaite says. "Unlike most comedy clubs, you can just walk up to the comedians afterwards and have a drink with them in the kitchen."
Though it's open to the public, Too Much! is an underground scene. The show is not a secret, exactly, but it's also not conventionally advertised. Braithwaite has plastered the Too Much! Logo—a stick figure at a microphone with an exclamation point for a head—all over the neighborhood's lampposts and mailboxes, but the yellow-and-black stickers don't say what they're plugging. Many of the attendees are comedians, who come to hear their peers even on nights when they're not performing, and they bring their friends. Artsy types from the other lofts in the building and from around the neighborhood wander in and keep coming back, week after week.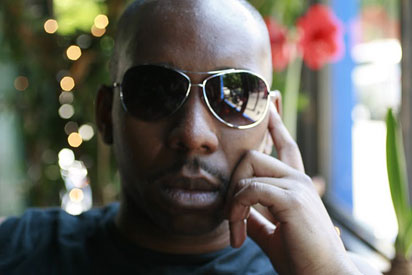 George Hamilton Braithwaite, founder of Too Much!
Now just over two years old, Too Much! began in November 2007, when Braithwaite started the show at the suggestion of Stephen Shellenberger, a former Hollywood actor who had moved into the loft and launched a new career in Montreal as a painter and visual artist. Shellenberger and Braithwaite met each other across the street at Biftek, a bar where, Braithwaite says, "any problem can be solved." At the time, Braithwaite was thinking about starting a new show, but wasn't sure about the details. Shellenberger, unhappy with his gallery for not properly promoting his work, was looking for a new audience to see his paintings. Together, they decided that Shellenberger's loft would be the perfect place for a different kind of stand-up night.
Indeed, because of its private setting and informal atmosphere, Too Much! represents something new in Montreal's comedy scene. At the same time, it's also the latest step in a long-building move out of conventional comedy clubs—known for high cover charges and two-drink minimums—and into more offbeat venues. For the last decade, hosting stand-up shows in rock clubs has become a staple for American comedians such as Patton Oswalt, Zach Galifianakis and Brian Posehn, and Montreal performers have taken up that spirit with gusto. In the case of shows like Too Much!, the alternative format has been extended even further.
Montreal is known as comedy town, mostly because of the annual Just For Laughs Festival, which brings thousands of tourists and big name comedians to the city each July. While the festival offers the potential for major industry exposure, local comics are quick to point out that what they need most to develop their art is stage time—something that's in short supply at Just For Laughs, as well as at the two year-round anglophone comedy clubs, the Comedy Nest and Comedyworks. And while the clubs and festival put a premium on profitable, polished performances, comedians also need places to experiment and try out new material. Artist-run shows such as Too Much! meet this demand for lower-key venues, where comedians can trot out untested, unconventional routines without worrying about whether it will cost them the next gig. Though the results are hit-or-miss, such shows give audiences the chance to see the kind of raw performances available nowhere else.
"When you're performing in a traditional comedy club, their concern is the bottom line, whereas in an artist-run venue it's more about who can get the best laugh," says Paul Ash, a Montreal comic who has worked for Just For Laughs and who used to run Ernie Butler's Talent Development Night at the Comedy Nest. "In the artist-run rooms you have the opportunity to see comedians trying something for the first time. It's the most dangerous—they're not sure if it'll work yet, but that's what makes it exciting."
For Braithwaite, it was one of Montreal's earliest independent shows that helped him find his own voice as a comedian. During the late 1990s and early 2000s he was a fixture on stages around the city, doing no less than seventeen shows a week. While he was performing regularly at Comedyworks and The Comedy Nest, one of his favorite venues wasn't a comedy club at all. Rather, it was a now-defunct dive bar simply called Le Bar, located off of the Décarie Expressway in the working-class Notre-Dame-de-Grâce neighborhood. It was "a nightmare place with video lottery machines," Braithwaite recalls, where local boxers and roustabouts could usually be found drinking their way off of a couple of bar stools. A comedian named Andy Pellat, who Braithwaite describes as "the me of the late nineties," hosted a show there each week.
"I liked doing shows that were outside of the comedy venues. They were wildly unpredictable and way harder," Braithwaite says. "Winning people over who were just there to play VLTs—it was a lot more fun and a lot more of a challenge than what was going on in the clubs."
It wasn't until the fall of 2005, however, that Braithwaite started his own show. During the previous year, he had gone through some tough times: the death of his father, a breakup and an eight-month stint aboard a tuna fishing vessel in the Middle East. After returning to Montreal, Braithwaite had a long chat with Jim Skormowski, the proprietor of Comedyworks. The two talked about the local scene and about Sugar Sammy, an up-and-coming star whose career Braithwaite had helped launch.
"I was bragging about how much I did for Sugar Sammy earlier in his career, writing about him for Hour magazine, and talking about our time at McGill, and Jimbo turned to me and said, 'Stop bragging about Sugar Sammy and do something with yourself,'" Braithwaite recalls. "And the next week I started Comedy On the Main."
That show, which Braithwaite launched together with fellow comics Peter Radomski and DeAnne Smith, ran for a year at the now-defunct Kandy Bar on Saint-Laurent before moving around the corner to Oliveira, where it would continue to flourish as Comedy Off the Main. At the time, the show met a pressing need in the city for an alternative anglophone venue.
"When I started comedy, there weren't any alternative stages that I knew about," Smith says. "There were the two English speaking clubs and one didn't even have an open mike night."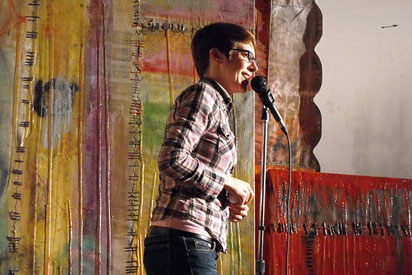 DeAnne Smith, host of several Montreal comedy nights.
While Comedy Off the Main has since closed its doors, a bumper crop of new shows has sprouted to replace it, each more offbeat and experimental than the last. Ash recently started a weekly show called Kick Ash on Saturday nights, and since 2008 he has been producing a monthly "dirty" comedy show called Blue Monday at Katacombes, a punk bar on St. Laurent.
"A lot of the comedy clubs were saying to comedians that they wanted us to watch our language, to stay away from edgier material," he says. "Blue Monday is not just dirty comedy but politically challenging comedy. It's all about freedom of speech, but to the extreme. And that extends to the audience members—they're encouraged to open a dialogue."
Smith also hosts two comedy nights, but in her case, each show blends comedy with other kinds of performance art. Tale Spin, which takes place on the last Thursday of each month, focuses on storytelling rather than conventional jokes, and features other kinds of performers in addition to stand-up comics. The change of form, she says, makes it an unusual kind of comedy show and forces comics to stretch themselves creatively. Smith's second show, Stand Up/Strip Down, offers a combination of stand-up comedy and burlesque. While the comedy element is more in keeping with normal stand-up routines than Tale Spin, following burlesque dancers on stage is no small challenge.
"They're following a woman who has just taken off all of her clothes and shaken her butt on stage, so it's a different kind of energy in the room," Smith says. "It forces the comedians to step up a little bit, because they need to match the energy of the girl."
Braithwaite's Too Much! also dabbles in other genres, including regular appearances by performers such as E.J. Brulé, an "alternative scatman," who comes on stage wearing a white scarf and wielding a shovel as a stand-in guitar. Even where stand-up is concerned, however, Braithwaite departs from the usual formulas. At Too Much! comedians have no fixed time limit, and are expected to figure out for themselves when their set has run its course. They are also forced to constantly come up with new material rather than relying on tried and true routines.
Braithwaite "has a rule where, if you do any old material, he won't allow you to come back for a week. That's helped me the most in my career and I would bet other comedians will say the same thing," says Kris Dulgar, a regular performer at Too Much!
While Too Much! just celebrated its second anniversary in strong form, Braithwaite is still changing things up. Though he still does the first set of the evening, he has handed off hosting duties to comedian Morgan O'Shea. He also plans to make the show profitable by selling its content on mobile networks. For now, though, Too Much! covers its costs the old-fashioned way: passing the hat.