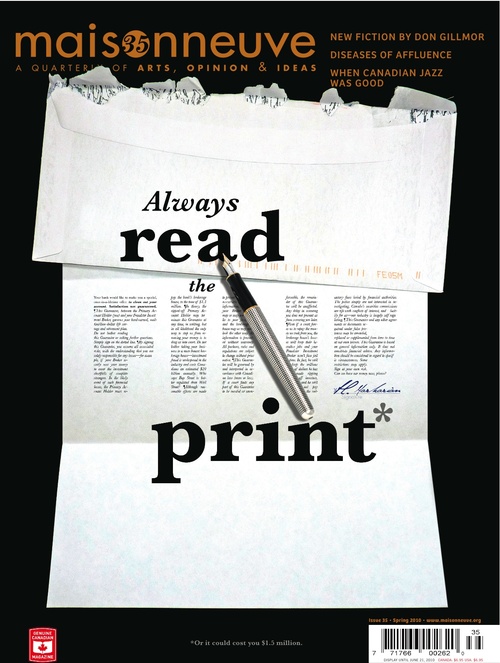 Our Spring Issue
What you can expect to see in Issue 35, due on shelves at the end of March.
This spring we lead with "The Incredible True Story of Mr. Markarian," a piece that uncovers a shocking case of investment fraud and examines the financial industry's culture of impunity. The scam's perpetrators were scarcely punished, while the victim spent years—and huge sums of money—fighting for redress in the civil courts. Such fraud is common, however, and costs investors billions of dollars every year.

No, it's not set in the US. This story, written by by veteran journalist Bruce Livesey, is about the deceptive underbelly of Canada's own financial industry, a sector lauded the world over for its prudence and safety. Livesey rips open this façade. He demonstrates that Canada's banks are not so different from those that created the ongoing credit crisis and economic meltdown—except the main players work on Bay Street rather than Wall Street. Livesey also explains how our credit crisis differs from our neighbour's, why Canada's industry is so broken and why its problems are invisible to so many Canadians.

In another brilliant cover, Anna Minzhulina's "fine print" concept captures the spirit of trickery that treats average Canadian investors with utter contempt—and allows those who bilk them to escape justice.
---
Also in the issue:
Drew Nelles on why the iPad won't kill books.
Paul Gallant on the decade that transformed Toronto's trans community.
Christopher DeWolf on the race to save a crumbling Montreal emblem.
Dave Bidini on what a recovering drug addict and ex-soldier taught him about soccer.
Jon Evans on how techonology will always defeat extremism.
Kevin Patterson on how urbanization is literally making us sick.
Elaine O'Connor profiles the activists who are stopping Canadian child sex tourists in their tracks.
A short story by Don Gillmor.
Chantal Braganza remembers a forgotten jazz legend too modest to make it big.
All this, plus Book Room, Music Room, a photo essay by Phillip Toledano, poetry by Rhea Tregebov, George Murray and Derek Beaulieu, and Writing from Quebec featuring Dany Laferriere.