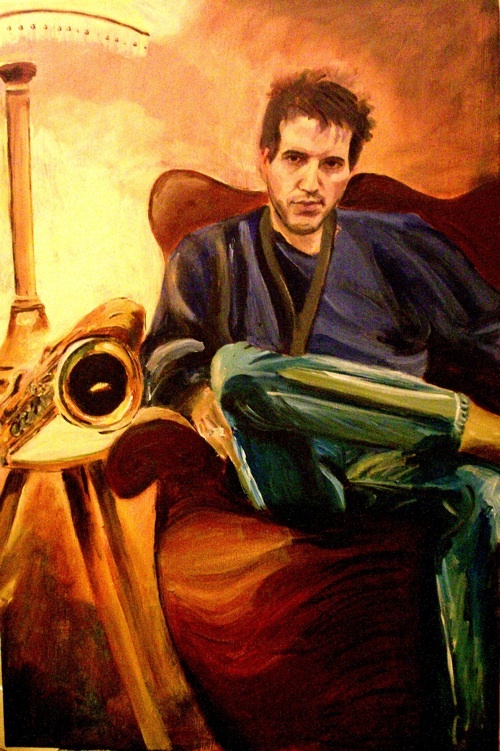 Be Still My Heart
A love letter to the Montreal jazz scene.
Dear Montreal jazz scene, I may not have told you this, but I'm sure it will come as no surprise—I love you. It is not that your pockets are over flowing with cash, or that you're dressed particularly well, but I love you as you are. You are brilliant and vibrant. You are talented and genuine. You are modest, humble, and I will love you for better or for worse...
I moved to Montreal in August, 2009. A vagabond for the previous three years, hitchhiking my way around the UK, South America, and B.C., I was craving a place to call home. I would sublet the apartment of a good friend from back home in Ottawa. This friend, Paola—who moved to Montreal and fell in love with jazz—was on her way to discover her Mexican roots for three months. I would move into her apartment until she got back. Then I would leave to go backpacking in India.
Right before Paola left town, she insisted we go out to meet a couple of her friends. It was a Wednesday, which to my jazz fiend friend, an artist and waitress at Upstairs Jazz Bar and Grill, meant we were headed to the weekly jam session at Grumpy's Bar: home of locally brewed beer and music.
And so began my love affair with the Montreal Jazz scene.
AI Mclean by Paola Larose
"I don't even like jazz," I told Paola in a laid-back protest. What the hell is jazz anyway? Is jazz crazily wailing saxophones; squealing, blaring trumpets; noodling guitarists and piano players that hit too many notes. Or maybe jazz is soft brushes delicately scratching a drum head's surface, then a ping ping pah ching on the cymbals. Maybe someone is reading a poem about being on the road. Beatniks.
Paola said the fact that I wasn't sure I liked jazz was of no consequence and promised I would have a good time anyway. "It's a good hang," she said.
The first person I met at Grumpy's was an upright bass player named Kyle Morin. He casually sipped his coffee while the rest of his friends were pounding back shots of Jamison. Then I met Thomas Durant, a sweet, blond, smiling drummer that would go on, with Kyle, to start the very successful Jazz in the Point concert series.
I met two hilarious roommates from Chateauguay, named Al McLean and Cameron Wallis, who happened to be two of the city's finest young tenor sax players, and famous for the parties they threw. I met a trumpet player named Martine who would become my teacher and one of my closest friends.
And then, be still my heart, the hottest man on the scene—Michel Berthiaume. We talked for what seemed like hours before he got on the Grumpy's stage to play the best drum solo I'd ever heard. The fact that he was wearing a murse didn't even bother me.
At some point over the course of that particular jam session, I fell in love. With jazz.
I spent every night out at a jazz show or jam for the rest of the summer and spring. There is quality jazz music 365 days a year in this city. The frequency of my going out only slightly lessened during the winter months. Going to jam sessions and gigs, meant I was part of "the hang." The jazz hang. "Come on out," they told me. "It'll be a great hang." It always was a great hang, and that hang was addictive. As was the music. As was using the word "hang."
In the first few weeks that I was in this beautiful, living, breathing city, I stumbled upon a community stronger than any other. And I searched hard for community. In my three years of vagabonding, I stayed with Hare Krishnas in Peru, cabbage worshippers in Scotland, and slept in a couple communal tepees. Nothing but façades and pretention. And here, in the wee hours at Upstairs, Grumpy's and Diable á 4, among some of the best musicians in the world, I accidentally found community.
Not only in the way I felt accepted as a lowly jazz fan, but I was witness to the beautiful camaraderie that exists between the players on stage. The jazz fan watches as the musicians play together, communicate silently, or with a tap of the head. They smile at each other, and laugh when a magical moment arises.
I found in the music freedom and structure, peace and chaos, love, hate, misery and ecstasy. Joy and melancholy. You get the point.
Jazz is a life-force. And as light, happy, and inspiring as jazz music can be, the counterpoint is darkness.
The darkness which surrounds the Montreal jazz scene is not akin to that of the "bad 'ol days," mentioned in the Maisonneuve article, "When Canadian Jazz was Good." This is not Miles Davis, Billie Holiday, Charlie Parker, Stan Getz or Chet Baker shooting heroin into their arms.
I've heard stories of some guys in town frolicking with prostitutes and doing cocaine, but I don't personally know a jazz musician that can afford that lifestyle. I've personally witnessed nothing but the odd joint being passed around and of course a couple of pints.
And do hookers and drug abuse make jazz music any better than universities and concert halls?
If the sketchiness of the "bad 'ol days," made jazz good, then maybe in the same way the struggle for a jazz musician in Montreal, 2010, to keep a roof over his head and food on the table, is what makes jazz good.
The ante has been upped! Competition is tough, and it can be difficult to get established as a professional, full-time musician in this city. Once a musician is established he is forever competing with his colleagues to get gigs.
Aside from the many Quebec natives making jazz music in the city, people come from all over the country to make a living here.
Steve Amirault is from Nova Scotia and Rémi-Jean Leblanc is from Moncton. Jeff Johnston is from Newfoundland, Christine Jensen hails from Nanaimo, B.C. and Joel Miller, from New Brunswick. Dave Watts is from Calgary, and Fraser Hollins and Josh Rager are from Ottawa. The list of very talented jazz musicians who have migrated to Canada's jazz capital is endless and forever growing.
In the aforementioned Maisonneuve article, writer Chantal Braganza alleges that jazz in this city or country, is no longer good—but that isn't the reason clubs shut down. It's supply and demand, and more people would rather spend time watching any number of shitty reality TV shows than go out to appreciate live talent.
Jazz in Canada is very good, top of the line. Because it has to be. The standards of proficiency needed to survive as a jazz musician are forever on the rise. Less gigs = more competition = higher standards of what it takes to work in a city like Montreal.
Some newbies, self-taught, and fresh out university will make it, some will not. Some will work on cruise ships to earn cash. Some will play weddings and corporate gigs. Many jazz musicians teach in order to help pay the bills—not that it's a compromise. I'd bet the majority of talented jazz musicians love directly passing on their expansive knowledge.
While it is undeniably difficult for many jazz musicians to make a living solely crafting their art, many still do it. The difficulty of their struggle certainly doesn't mean jazz music in the country is dead. I am sure it's this very struggle that contributes to one of the defining characteristics of almost every jazz musician I have met—humility.
These are really friggin' nice people! And they have more reason to be cocky than Nickleback lead singer Chad Kroeger.
Do you realize the theory that goes into composing a jazz tune, or the level of difficulty of playing a standard? Jazz musicians are geniuses. Every last one of them. And as brilliant as they are, they are forever looking to improve, expand and learn. The more you know, the less you think you know. You know?
Why does jazz music resonate so well with me? My theory is this. Jazz music is complex enough to keep my busy mind stimulated in a way no folk song can.
Put Brian Hurley on the stage and just try not to pay attention to his absolutely insane and brilliant bass lines. If Kevin Dean has a trumpet pressed to his lips, or Dave Laing takes a drum solo—good luck focussing elsewhere. The same goes with listening to Jeff Johnston's beautiful piano playing, or a sexy sax solo by Cameron Wallis.
I still listen to folk music: Joni Mitchell while I'm gardening, Leonard Cohen while I do dishes, and Bob Dylan when I vacuum. Folk music is good in the background, but it can no longer do for me mentally and emotionally what jazz can.
Almost a year later after watching dozens of concerts, listening to hundreds of albums, and writing a whole bunch of blog posts on my jazz website, Pork Pie Jazz, I found myself at the We Want Miles exhibit at Montreal's Musée des Beaux Arts. I was there with my boyfriend (the gorgeous jazz drummer I met at that first Grumpy's jam). We came to a photo of Miles sitting on a couch with a bunch of friends. It was a jazz hang. Michel and I looked at each other and said, "Chateauguay?"
Related on maisonneuve.org:
—Outlaw Country
—Alex Chilton (1950-2010)
—The Cool Jew

Follow Maisonneuve on Twitter — Join Maisonneuve on Facebook