The Music We Hate: Pavement
"Pavement are more praiseworthy for their branding than their tunes."
This is an online supplement to Maisonneuve's print-only "The Music We Hate" feature (Issue 36, Summer 2010). To read Carl Wilson on Radiohead, Sean Michaels on Sufjan Stevens and more, buy the print edition in stores or contact us to order it.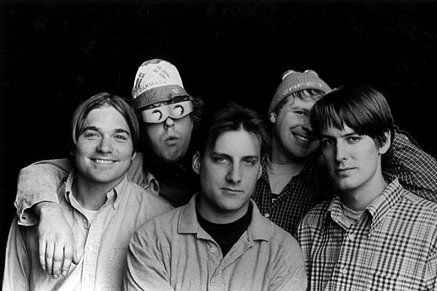 In the nineties, when mainstream rock was U2 and R.E.M., the musical landscape seemed barren. So when Pavement threw alt-rockers a bone, they ate it all the way through to the marrow, did some stem cell research and found punk, grunge, and underground rock. A whole new world of music opened up.

Thus I present the Pavement Theory: Pavement helped fans learn about other music, their fans gained the authority to dish out musical criticism—they were into Pavement, after all—and, before you knew it, they started writing for Pitchfork.

Critics praise Pavement for both their noisiness and pop sensibilities. Pavement had the guts to be lo-fi in a hi-fi age. They were talented but didn't try too hard. Stephen Malkmus' lyrics provide "evocative imagery" with an apathetic, cynical bite. He's clever and nonchalant.

These reasons seem convincing, but don't fall for it: while we could give Pavement some credit for helping down-and-out indie kids become established music critics, Pavement's music isn't that good.

First of all, it sounds like Pavement are more praiseworthy for their branding than their tunes. Pitchfork describes Malkmus as "erudite but bratty, laid-back yet buttoned-up ... a pragmatic romantic, an aloof charmer." They wanted a modern-day anti-hero, and there he was, with his nonchalant arrogance, a shining (but unpolished) carefree cowboy of rock. I know the feeling: I loved Harrison Ford.

As for Pavement's other talents—volume and pop, guts and lyrics—there are plenty of other punk, post-punk or grunge bands that deliver more. Want intelligent-yet-distorted melodic songs? Try the Fall. Want throwaway punk with a penchant for noise? Try Swell Maps. Try the Pixies, Iggy Pop and Gang of Four; they're not substitutes. They stand by themselves and rise above Pavement. Try Wire's Chairs Missing (1978)—it's satisfying like Pavement, but it's catchier, punkier, better-written and better-produced. It might not assuage your demand for a rock anti-hero, but if you want one of those, you could listen to Sting.

I still don't understand how Pitchfork could rank Pavement albums fifth- and eighth-best on its "Top 100 Albums of the 1990s." Pavement are nice, but so are Blur, Nirvana and Weezer. If I could psychoanalyze Pitchfork writers, I'd say that they latch on to Pavement because it was Pavement who dragged them out of the mainstream muck. I enjoy listening to Pavement, as much as I enjoy listening to the Police or R.E.M. But I'm not going to give them extra credit just because they liberated me from a horrible mainstream existence. Marijuana might be a gateway drug, but there are better highs out there.
Aaron Vansintjan is a Maisonneuve intern.
Related on maisonneuve.org:
—The Music We Hate: Daniel Johnston
—The Music We Hate: Belle and Sebastian
—The Music We Hate: Timber Timbre
Subscribe to Maisonneuve — Follow Maisy on Twitter — Like Maisy on Facebook