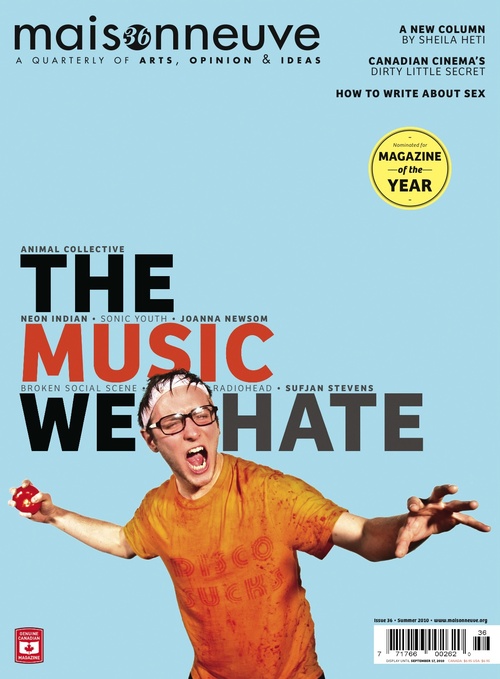 Our Summer 2010 issue
What you can expect to see in Issue 36, due on shelves June 21.
Should an uprising against bad tunes ever take root, this issue's main feature, "The Music We Hate," just might be its manifesto—and our cover image its greatest piece of propaganda. New York-based photographer Patrick J. Stefano teamed up with model Travis Johansen and Maisonneuve art director Anna Minzhulina to capture that most contradictory of characters: the revolutionary hipster, finally rebelling not against his rich parents or his (over)education but against the arbiters of his own aesthetic. Hey, our boy seems to scream, I actually really fucking hate the Golden Filter, and not only am I unafraid to say so, I'm going to throw a fucking tomato, too. The result perfectly encapsulates the purpose of "The Music We Hate": to reveal the arbitrariness of taste and to have a bit of fun. In our cover story, we have seven brave, witty Canadian music critics dismembering some of the most beloved acts of our time. But on our cover, we have just one man, alone against the Culture Monolith, ready to declare war.
THE CRITICS AND THEIR DISCONTENTS
Michael Barclay on Animal Collective
Chandler Levack on Broken Social Scene
Sarah Liss on Neon Indian
Ryan McNutt on Joanna Newsom
Sean Michaels on Sufjan Stevens
Dave Morris on Sonic Youth
Carl Wilson on Radiohead
---
Also in this issue:
Rebecca Rosenblum on why authors should give their villains a break.
Mark Mann recalls his dual life as a roughneck and an amateur lepidopterist.
Salvatore Ciolfi on how he nearly became a scribe of smut.

Sheila Heti mourns the disappearance of monologues
Abou Farman reports on the futurists preparing for our demise.
John Semley on Canada's unique -- and world-class -- B-movie tradition
Alex Hutchinson talks shit: the twenty-first century's most undervalued hope for renewable energy.
Rahat Kurd remembers a childhood when pop culture and Islam found common ground.
All this, plus Book Room, Music Room, Writing From Quebec, a photo essay by Mary Dalton and Scott Walden, fiction by Andrew Steinmetz and poetry by David Seymour.