The Music We Hate: Ariel Pink
"There's an old saying about bad poets: they muddy their waters to appear deep."
This is an online supplement to Maisonneuve's print-only "The Music We Hate" feature (Issue 36, Summer 2010). To read Carl Wilson on Radiohead, Sean Michaels on Sufjan Stevens and more, buy the print edition in stores or contact us to order it.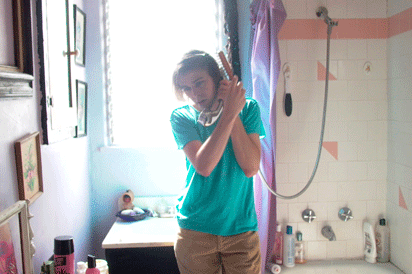 Picture it: a warm summer night. A downtown side street. You're wearing an ice blue t-shirt and a white sport coat. Neon lights and palm trees streak color and texture atop a glowing checkerboard of looming skyscrapers. Then the muffled wail of a distant saxophone winds its way to you, echoing off the buildings. As keyboard solos layer over other keyboard solos, a voice grunts, "Hot tub. Get into my hot tub."
Welcome to Ariel Pink's retro Los Angeles. It's a land I cannot stand.
Creator of some five hundred songs released on cassette tapes and various CD-Rs, Ariel Pink is to home-recording what Richard Pryor was to cocaine consumption. Before assembling his current band, Haunted Graffiti, he produced all of his music at home on cheap equipment and played most of the instruments himself, including his mouth and armpits for percussion. Just as dogs deposit long ropes of feces in city parks, Pink deposited synthesizer sounds over bass, drum and guitars, and draped his affected, filtered vocals across it all. Sounds smear across the songs' surfaces. Sonic elements whoosh-whoosh-whoosh in the background like helicopter blades. Sound quality varies, but the volume is generally low, the pace a somnolent mid-tempo. Pink croons. He gurgles. He hovers over the instruments and whispers deep inside the mix. Critics call his music chillwave, lo-fi, freak folk and electropop. It's as emotionally and physically subdued as a body loaded with Xanax.
Although Pink dabbled in seventies soul and sixties pop vocals on past recordings, his latest album, Before Today, draws its influences largely from the 1980s. Synthesizers have claimed increasing dominance in nostalgic indie pop and in Pink's music they supersede everything but his vocals.
Unfortunately his singing and lyrics are also unlistenable. When I first heard Pink's music, I actually looked to the lyrics to find absolution from the music. There's an old saying about bad poets: they muddy their waters to appear deep. "Fertile woman, make me menstrual," sings Pink on "Menopause Man." "Menopause man, rape me, castrate me, make me gay. Lady, I'm a lady, from today." It's like an inside joke only funny to those who want to get in on it, forcing a laugh to seem in the know.
And that's precisely Pink's problem: he's too calculated. Nothing about his music feels natural, what some might call organic or authentic. Okay, I imagine Pink saying as he sits on the floor of his living room, surrounded by charts and graphs, I'll pull some eighties references here, tap the D.I.Y. thing there, throw in a few Brian Wilson-ish harmonies for that California summertime vibe, then stir in some dark gothic elements for subversive allure.
Advances in home recording technology have made this an incredible time for the independent artist. A musician with a laptop can record as often and as much as he or she wants. When it comes to Ariel Pink, it's not a question of quantity versus quality; his curse is the calculated oddness and irony on which his entire oeuvre rests. He's too amused with himself, too impressed with his own wit. And that subtle arrogance is grating.
Don't get me wrong: I respect the spirit of his efforts. The endless recordings. The inventive use of available equipment. That focus, drive, determination—making room for his art in whatever space is available. Pink's vision and productivity is astounding. It is, dare I say it, inspiring. I just don't care for the results. Music that's clever for clever's sake, all cheek and no substance—I have no patience for that.
Aaron Gilbreath is a freelance writer living in Arizona.
Related on maisonneuve.org
—The Music We Hate: Daniel Johnston
—The Music We Hate: Timber Timbre
Subscribe to Maisonneuve — Follow Maisy on Twitter — Like Maisy on Facebook