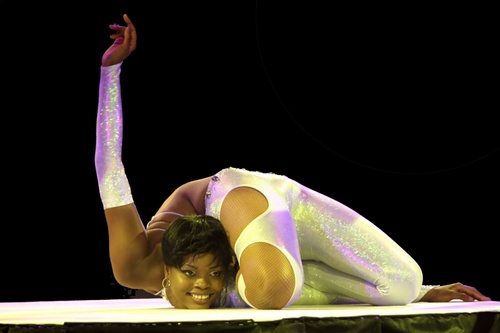 An Olympics of Circus: Cirque de Demain Hits Montreal
Up-and-comers walk the tightrope between athletics and art in a new circus showcase.
Lunga, a contortionist from Johannesburg, performs at TOHU this week.
The crowd was getting rowdy, and with good reason. They were seeing the world's best—prize-winners from ten countries who've practiced twelve-plus hours a day for most of their life in order to perfect jaw-dropping feats at the limits of athletic possibility.
But there wasn't a foam finger in sight, and the audience was made up of families and the kind of couples that have subscriptions to the opera. Besides, most of those limbering up backstage would call themselves artists, not athletes. It was a circus show, that specimen of artistic performance so close to sport: opening night at Cirque de Demain.
Festival Mondial du Cirque de Demain (World Festival of the Circus of Tomorrow) is at Montreal's circus center TOHU until February 27. This is only the second time in the competition's thirty-four-year history that the Cirque has presented its competition winners outside of Paris (the first time was also at TOHU).
CdD was initiated as a showcase for the first circus school graduates, aiming to give a leg up to new performers who didn't come from circus families. It has since hosted over 1,000 acts, and hands out medals under the world's largest big top, Paris' Cirque Phénix. Winners are almost always assured careers. Many make up the ranks of Cirque du Soleil and other mega-companies.
Stéphane Lavoie, general manager of TOHU, has called CdD an "Olympics of circus." And just as with the actual Olympics, it's questionable whether performers are really the up-and-comers they're supposed to be; most are heavily sponsored and branded by the time they perform in the Cirque de Demain, and those performing in Montreal have already won medals at past competitions. The only real amateurs are the National Circus School students performing the opening act.
Modern circus is rife with contradictions: it is at once sport and performance, entertainment and art. Athletic competitions such as Cirque de Demain, replete with brassy victory anthems and spotlights, may not be the best way to serve an artistic mandate. But they aren't all bad—sports can lead to art. That's the story behind Montreal's thriving circus culture, after all.
In preparation for the 1976 Montreal Olympics, citizens and the municipal and provincial government wanted to express a uniquely metropolitan culture to world visitors. Fuelled by a boost in funding, contemporary arts organizations, venues, and festivals—many of them now major players—cropped up at an amazing rate. Circus in particular proved popular and, five years after the Olympics, the National Circus School was founded in Montreal. In 1984, the company that would become the biggest star in contemporary circus opened its doors: Cirque du Soleil. Two decades later, TOHU, a self-styled "circus city," was constructed on a reappropriated garbage dump. Today, there are so many circus companies based in Montreal that it even plays host to En Piste, the national association of circus artists and organizations. Quebec television network TVA will also debut a new reality show about circus sports, called Le défi des champions, on February 27.
At the opening of this year's Cirque de Demain, the MC emphasized parallels with the Olympics by highlighting the nationalities of each performer. He described CdD as a "United Nations"—a sentiment echoed by CdD president Alain M. Pacherie, who called the fest a "compétition fraternale."
One performer of note was South Africa's Lunga, whose performance prompted the MC to sing the South African anthem. She's exactly the borderline-superhuman sideshow the circus is famed for: her contortions are at once beautiful and grotesque, eliciting both winces and applause. It was refreshing to watch someone other than a preteen gymnast flex and bend; in proud possession of a curvaceous—if abnormally twisty—frame, Lunga interspersed pose after impossible pose with sexy gyrations to Beyoncé.
A dizzying China National Acrobatics Troupe equilibristics act, incorporating a huge metal apparatus, flaunted the mastery of one skill: balancing in different poses atop two poles that rise higher and higher until the performers almost reach the ceiling. Kazakhstan's Darkan, however, was much more creatively engaged. Unlike the Chinese act, dazzling for its obvious challenges, his lyrical aerial-straps routine masked rather than emphasized shockingly difficult moves. Sometimes even going en pointe, Darkan performed something akin to a contemporary dance. It's no wonder he won gold last year; he convincingly presented the illusion that realizing the impossible is easy.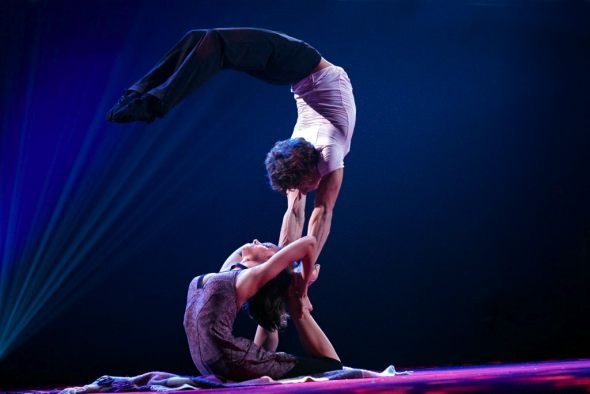 Igor Gavva and Juliia Palii.
A hand-to-hand pas de deux featuring Ukraine's Igor Gavva and Juliia Palii was an arresting and hypnotic love story. They performed a series of balancing acts and jaw-dropping poses that required extraordinary strength and control from both partners. Palii has the slim figure of a ballerina and Gavva is no lightweight, but she, instead of the man, was the base of the hand-to-hand act—an unusual choice. It defied physics.
Arguably the best-received was Kérol, a street performer from Barcelona whose vocal sound effects, or Foley, and quick-handed juggling got people laughing and oohing. Starting at the back of the audience, he poked fun at the theme song from Cirque du Soleil's Alegría while walking through and literally over the crowd. Launching quips at them along the way, Kérol slid into throat singing, beatboxing and sound effects. The audience was completely absorbed. Some hooted and got to their feet to clap.
One of the most highly anticipated performers was this year's gold winner, Sweden's Uuve Jansson. On opening night, however, she was in bed with the flu, and in her place was another blonde trapezist, Australia's Emma Henshall. The gold winner two festivals ago, Henshall spun from a swinging trapeze above Robert Webber, an admiring props man dressed as a janitor. It was innovative yet still reminiscent of an old-fashioned traveling circus act.
It was also a sneak peak at a work-in-progress for Cirque du Soleil's upcoming show, IRIS—lucky for us, as tickets to Cirque de Demain probably cost a third as much as that show will. Because if this is the Olympics of circus, then Cirque du Soleil is the NHL. The emerging players at CdD hope the festival will help them catch the eye of someone hiring for the big leagues, someone who will name them the next big thing. If they're lucky, they'll be zipped into over-the-top bodysuits and whisked into the spotlight.
Cirque de demain : édition spéciale runs until February 27, at TOHU (2345 Jarry E.). Tickets are $33.15 for adults.
Related on maisonneuve.org:
—High Wire Melodies
—Human Behaviour
—Where Have All the Monologues Gone?

Subscribe — Follow Maisy on Twitter — Like Maisy on Facebook