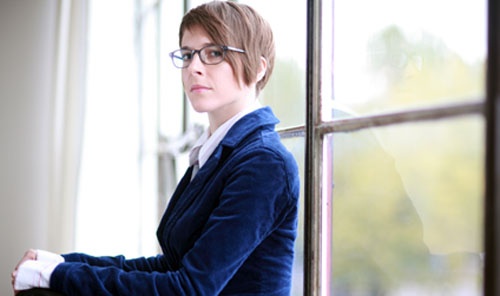 "It's Like I'm Everyone's Kid Sister": DeAnne Smith at Zoofest
The Montreal comedian on living out of boxes, doing it for love and why comedy comes easy.
"I felt like, in my career, it was about freakin' time to be makin' some big moves," says DeAnne Smith.
The Montreal-based comedian is doing just that: her one-woman show, About Freakin' Time, made its Canadian debut yesterday at Montreal's Zoofest, an offshoot of the Just For Laughs festival. The show—which was originally produced this spring by the Melbourne International Comedy Festival, and nominated for its prestigious Barry Award—exudes a kind of gee-whiz friendliness, offset by a snarl. Smith is like the friend who comes to your dinner party, charms everyone at the table with her warmth and candour, then brings down the house with a snarky one-liner.
The comedian says she "didn't really have a purpose" before finding comedy. Originally from upstate New York, she spent a few years at a liberal arts college in her home state before heading to Baltimore to work for an editing company.
"I would go from what I felt was, like, the box of my apartment to the box of my car to the box of my office," recalls Smith. "I just felt like I was in boxes all the time and I didn't enjoy it."
For a time, she also did street outreach in Baltimore. For those who haven't been there, that city might be forever linked with the HBO series The Wire: gangs grinding on street corners, homicide detectives trying to pin bodies to killers, junkies looking for angry fixes. Into the midst of this failed American dream stepped DeAnne Smith.
"People often ask me, 'How can you get up on stage? It seems so hard.'" says Smith. "But it is easier to come up to people and be like, 'Hey! You guys wanna laugh?' I used to go up to people on the street in Baltimore, hand them condoms and be like, 'Hey! Please stop having crack babies!' So much more difficult."
After Baltimore, Smith spent a few years in Mexico teaching English before ending up in Montreal. Smith's first stand-up performance was at the Comedy Nest in February 2005. "I forgot all my jokes," she remembers. "I had practiced my lines all day and was so nervous I forgot to shower. So my hair was all greasy and I put on a toque. I performed in this hat and just kind of rambled. But the audience loved it, and I was hooked."
Despite growing up in the States, Smith now considers herself to be a Canadian comedian—after all, it's where she got her start. But comedy wasn't the reason she moved to Montreal.
"The reason I came to Montreal is the reason I really do anything, which is"—she says, in a sing-song voice—"for a girl."
Smith is open about her sexuality, and it often factors into her stand-up routines. But she'd prefer to just be called a comedian, full-stop. "As much as I'm a lesbian comic, someone else is a straight comic, but people don't talk about that," she points out. "I actually talk less about my sexuality and my relationships than your typical, straight male comic talks about his sexuality. But because that's the norm, people don't even recognize it, you know?"
Luckily, the label hasn't held her back. "I'm a woman and I'm very non-threatening," she continues. "I'm on stage in, you know, a little tie, kind of non-sexualized—like I'm everyone's kid sister, that sort of thing. I think it's different for gay men. I think male sexuality is so much more threatening to people than female sexuality."
She admires comedians who can be vulnerable about their personal lives and make connections with the audience. One favourite is American comic Maria Bamford, who will also be performing at Zoofest. "She has a certain skill-set—her voices—and she talks about personal issues in a way that is accessible. She always presents herself as the underdog, even though I think she's making incredibly sharp and insightful commentary on the people around her."
Smith gushes over the chance to appear in Just For Laughs this year with comic heroes like Bamford and Louis C.K. But she's no slouch herself. Six short years into her comedy career, she has toured Australia as part of the Melbourne Festival's Roadshow, playing to sold-out rooms. Now, during Just For Laughs, she will also be appearing on HBO's JFL special Funny as Hell. Come August, she'll be taking her show to the Edinburgh Fringe Festival. Smith says she feels like she's "becoming less of an up-and-comer and more of a comedian. This is what I do. This is who I am.
"I am still in my early days. I'm in love with stand-up and I look forward to growing and growing and growing," she says. "I don't feel like I've 'arrived,' and I hope I never feel like I've arrived."
DeAnne Smith's comedy show About Freakin' Time runs until July 30 at Underworld (1403 Ste-Elizabeth St.). See the Zoofest website for schedules.
Related on maisonneuve.org:
—Maisonneuve's Summer 2011 Issue
—Video: The Best of Picnicface
—Jokes From the Underground
Follow Maisonneuve on Twitter — Like Maisonneuve on Facebook