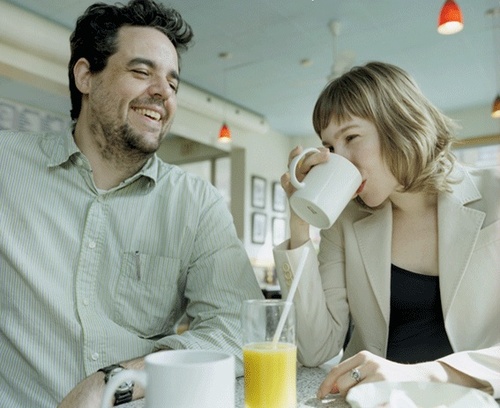 Playing Well With Others
Writer and former Maisonneuve columnist Sheila Heti on collaborating with Misha Glouberman for their new book, The Chairs Are Where the People Go.
Misha Glouberman and Sheila Heti. Photo by Lee Towndrow.
When Sheila Heti and Misha Glouberman had first started working on their new book, The Chairs are Where the People Go, they wanted to pack a volume with everything Glouberman knew. "If you are feeling all over the place about your life," Glouberman joked at the book's Toronto launch last week, "I really recommend putting it all in one volume. It feels a lot more finite."
Chairs is Heti's fifth book and Glouberman's first. It follows close on the heels of Heti's first children's book, We Need a Horse, which was just released in June, and last year's How Should a Person Be? The latter does have some overlap with the Toronto dwellers' latest: while writing How Should a Person Be?, Heti tape-recorded conversations with her friend—and Glouberman's girlfriend—Margaux, and transposed them into a mostly fictional narrative. (Glouberman also made an appearance.) This time, she transcribed the real-life Glouberman's opinions on everything from playing charades to gentrification and his time at Harvard, itemizing his concerns into separate chapters.
Despite the reoccurring "characters," the two books are very different beasts: while How Should a Person Be? is recognizable as a novel, not a memoir, Chairs is something between an autobiography and a self-help book. Laying bare his experiences and anxieties, Glouberman suggests that we need to make a conscious effort to open ourselves up to surprises.
Glouberman, a performer and self-described "facilitator and designer of highly participatory events," makes a living running everything from conferences to improv classes. But he does not describe himself as a writer. "I cannot communicate with an imaginary audience," Glouberman explained at the Toronto launch. As transcriber, Heti became his audience, typing as he spoke. Glouberman admitted that sometimes he feels like he is the book's author; other times, he feels like a character in a novel by Heti.
The two are long-time friends and collaborators. They co-founded a monthly lecture series in Toronto called Trampoline Hall, which encourages speakers to talk only about subjects in which they are not experts. Now, to promote their book, Heti and Glouberman are taking Trampoline Hall on the road.
This Tuesday, August 2, you can catch the first Montreal edition of the series. Writer, filmmaker and man-about-town Mark Slutsky worked with Heti to select the line-up, including writer Marci Denesiuk on evolution and shadow puppetry; food writer and blogger Anthony Kinik on the Evil Eye; and writer and editor Jesse Staniforth on his journey to try and understand the theory of relativity. Glouberman hopes the evening will give people a taste of Toronto as "a utopian wonderland of participatory art."
I caught up with Heti, a former columnist for Maisonneuve, to pick her brain about working with Glouberman and what else she's got on the horizon.
Whitney Mallett: Friendship is a subject you keep coming back to in your work. Would it be fair to say that it's your and Misha's friendship that is the subject of this book?
Sheila Heti: I think it's not the subject, but one of the things that's being represented is our friendship. There's this chapter in the book where Misha has a student from BC who tells him, "In BC, your friends are the people that you go swimming with." In a place like Kelowna, maybe it'd be harder to write a book out of a friendship. Here in Toronto, all my friendships revolve around conversations, so it's easy to translate that into a book.
WM: In the book, Misha really drives home that you need to be open to experiences and let yourself be surprised. Were there any surprises in the experience of writing the book with Misha?
SH: When you're really writing well, it's like [being in] a trance state. I felt like that sometimes when I was transcribing what Misha was saying. It was a bit of a surprise for me that I was able to get that artistic gratification when I was writing down someone else's words. I like to think there isn't such a big difference between one's self and other people, and this was further evidence of that.
WM: Your last two books must have been a lot of fun to work on with your friends. Are you hesitant to return to the life of a solitary writer, to return to working in your head?
SH: No. It's been a lot of time writing one way; it'll be nice to go back and see what's there. I'm looking forward to it.
WM: Are you interested in continuing to experiment in the space between fiction and non-fiction?
SH: I am always interested in representing something. I don't really think about it in terms of trying to blend these genres. I am just thinking how to best represent an idea or how to best represent something in a world.
Sheila Heti and Misha Glouberman will launch their book, The Chairs are Where the People Go, at Sala Rossa (4848 St-Laurent Blvd, Montreal) on August 2 at 8pm, with a Montreal edition of lecture series Trampoline Hall.
Subscribe to Maisonneuve today.
Related on maisonneuve.org:
—Interview with Sheila Heti: 'All the Stories We Tell Ourselves are Fictions'
—Human Behaviour
—Where Have All The Monologues Gone?

Follow Maisonneuve on Twitter — Like Maisonneuve on Facebook