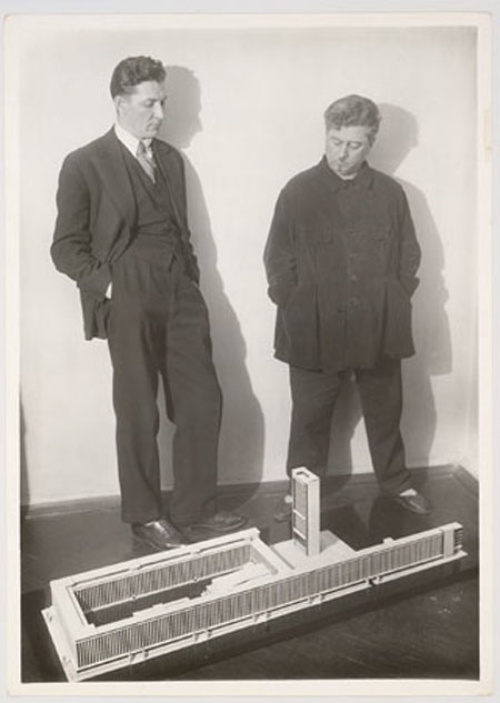 Visions of the Future: Modernism in Miniature at the CCA
Photographs carry architectural models into the realm of fantasy in a new exhibit.
Daniil Fridman and Gleb Gluschenko with their model of the Soviet Building of Industry, 1931.
Architecture has always been as much about process as the resulting buildings, and in the Canadian Centre for Architecture's latest exhibit, Modernism in Miniature: Points of View, an intermediate step becomes the main attraction. Photographs of architectural models, so often treated as a means to an end, are celebrated here as an art form in their own right.
The exhibit, which opened in the CCA's Octagonal Gallery on September 23, focuses on photographs and designs produced between 1920 and 1960. During that period, the architectural model—a miniature mock-up of a planned building—reemerged as a prominent design tool in both schools and firms. Many architects began to feel that a model's three dimensions offered a more objective approach to design, in comparison to the architectural drawings popularized during the Beaux-Arts movement.
But the model wasn't the only medium becoming popular in architecture circles: consumer cameras and photography were also becoming more accessible. This prompted architects to simultaneously reduce those three dimensions back to two by photographing their models. The resulting images were meant to help architects present designs to clients, but they also circulated among the general public more widely than the models themselves ever would have. As the CCA exhibit's curator Davide Deriu pointed out at last Friday's vernissage, what model photography may have lost in three-dimensionality, it gained in reach and visual possibilities. The resulting photographs seem to hover between the realm of documentary and fantasies of the future.
Modernism in Miniature's five sections are a dynamic testament to the different ways architects tackled the genre. A photograph at the entrance to the exhibit, showing architects Daniil Fridman and Gleb Gluschenko looming over their 1931 model of the Soviet Building of Industry, reads as pure record. Scale has always been a model's biggest limitation; looking at Fridman and Gluschenko's model, no bigger than a dollhouse, it's hard to imagine the real-world presence of the finished product.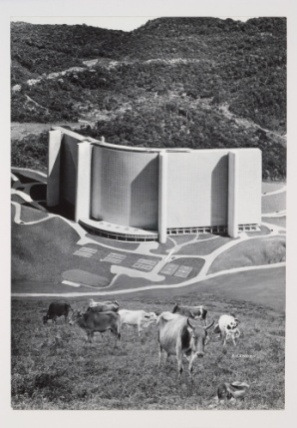 A photomontage of Oscar Niemeyer's design for the Quitandinha Hotel and Apartment Block, 1950.
Photomontages by the likes of Brazilian architect Oscar Niemeyer attempted to overcome that limitation; when a picture of the model is superimposed onto a picture of the future building site, it seems a more convincing preview than the model alone. (A row of cattle was even superimposed into the foreground of the photomontage for Niemeyer's 1950 Quitandinha Hotel and Apartment Block, Rio de Janeiro.) But a different sort of doubt accompanies these collages. In a convincing photomontage, a model becomes almost too easy to mistake for a full-size building.
One of Modernism in Miniature's most famous subjects never actually became a real building: Ludwig Mies van der Rohe's Friedrichstrasse Skyscraper. The 1921 design—featuring an entirely glass exterior that would reveal the reinforcements inside—nonetheless remains one of the German visionary's most famous ideas, in part thanks its widespread circulation as a model photograph. Based on those images alone, it has become a full-blown modernist icon.
The only actual model on display at the CCA is that of the Villa Chimanbhai, designed by Le Corbusier's office for the mayor of Ahmedabad, India. In comparison to the exhibit's many photos, the model is a reminder of qualities best appreciated in person: textures, physical scale, slightly crooked gluing. But it also demonstrates why architects used photography to try to escape those distracting imperfections. A row of corresponding contact prints mounted on the wall behind the model are a testament to the genre's quest for realistic presentation; in an image where the Villa model is set next to a lake, one gets a sense not of the model itself, but of an eventual building's relationship to setting and lighting.
Model photography has been used to clarify architects' ideas and help them communicate with clients and the general public, creating visions of a thoroughly modern landscape. But as the CCA's exhibit shows, these images also have their own life, independent of the future buildings they may represent.
Modernism in Miniature: Points of View is on display at the Canadian Centre for Architecture (1920 Baile St.) until January 8.
Subscribe to Maisonneuve today.

Related on maisonneuve.org:
—Negotiating Negative Peace: The Good Cause at the CCA
—The Architecture of War at the CCA
—The Composer Who Used Coloured Pencils
Follow Maisonneuve on Twitter — Like Maisonneuve on Facebook