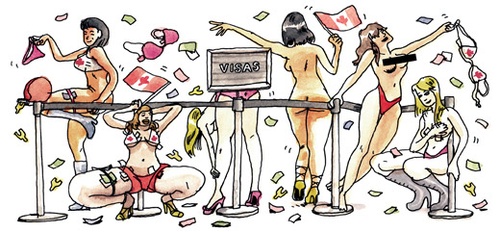 Illustration by Victor Kerlow.
The War on Strippers
For years, special visa considerations have helped immigrant women dance on Canadian poles—but, last summer, the Harper government closed this loophole. Who benefits from this sex-trade paper maze?
Boners are the lifeblood of the seventy-eight strip clubs that dot roadsides from Ottawa to Windsor, but most boners know nothing of the recondite bawdyhouse laws at work around them. Boners know nothing of the degree of duress of the women onstage, let alone their immigration status. Never do we seem so zoologically governed—as if we were cattle or corn—than under the microscope of sex laws. In the Ontario of 1994, someone can dance in your lap. Then, in '97, you can't so much as touch a shoulder, but, in '99, the law admits people into your lap again. This is where human polities read their own as low fauna, where MPs see all of it—hair in the colours ketchup and turquoise, air-conditioned gooseflesh, body glitter and cocoa butter, yellow-and-purple pole-blisters—as the idiosyncrasies of a biome to be goodly governed.

I've been told by Tim Lambrinos, director of the Adult Entertainment Association of Canada, that the farther an Ontario club is from Quebec the bigger its stripper shortage, as if a weird pied piper of human capital launches out west from Montreal's tenderloin district, his tune dying throughout and dead just before it hits Detroit. Lambrinos told me of men's preference for that sexy foreign accent and their acute demand for the "girls" being different all the time. The argument goes that, to meet this hyper-demand, clubs must secure work visas for women from the Second and Third Worlds, where everyone is always new.
In downtown Windsor, Leopard's Lounge & Broil was once an Epcot of accented women. Online reviewers hook onto this: "There are a lot of international girls here. From Russian to Mexican and other European countries. Some of the girls look amazing and I find them a lot more friendly and chatty than the Canadian girls." Leopard's was where post-industrial Windsor men found their oasis of nineteenth-century privilege and wonder: "A lot of girls came by and I decided to settle on a very sexy Mexican who I didn't think looked Mexican. This girl has the softest skin and a very sexy look to her ... Not a bad night considering there was not much to do in Windsor."
Sentiments like this disgust a broad coalition, from evangelicals to anti-sex feminists. In July, this coalition found its political expression when Immigration Minister Jason Kenney announced that the Harper government would deny all foreign work-visa applications for stripping in Canada. Since the 1970s, a specific visa process for foreign strippers has been in place, although it has vacillated between expedient carte blanche and Victorian prejudice. So many people want this visa window closed for so many noble reasons. For humanitarians, you can protect women from this way of life; or, if you're nativist, you can appeal to "keeping it Canadian." And haven't you heard of human trafficking? A 2010 RCMP report said that criminal groups exploited the visa policy to induct foreigners into the underground sex trade, the stats slippery but terrifying.
So: this is for the women. As Kenney explains, "We're not going after the women—we're protecting them from what they might not know will happen to them when they get to Canada." Visas have now expired for the dancers at Leopard's. Twenty-two women there have left for Estonia, Sweden, Italy, France, Iceland and Hungary. Many people have told me to celebrate the long-delayed death rattle of a policy that once shelved strippers, in terms of visa-queue privilege, alongside IT guys and university research chairs. Their message is clear, their logic unassailable: strippers should not work in Canada with such facility.
Few Cold-War exoduses rival that of the post-perestroika stripper, when the women of Moscow and Petrograd filed into clubs all over the world, from Hong Kong to Cairo to Toronto. This was first felt in Canada in 1991, when eleven Soviet strippers—"Gorby's Girls," after Mikhail—were arrested in Concord for working illegally on visitor visas. Two men from a "modelling firm" called Intercontinental Agency had set them up in a Richmond Hill house and handled all wages and expenses. Olga thought she would be a model, Maya said it was like slavery, but Dianna enjoyed the work, and Natasha too wanted to stay, saying that none of them came here for fun.
Whenever this sort of thing occurs, a cycle slips into gear: 1) a sex-trade crime happens; 2) though usually unrelated to the actually licit stripper visa, the crime involves foreigners, and so: why are these women here? and then; 3) hype-headed writers like me learn that Canada actually has a visa process for exotic dancers. As Gorby's Girls jumped through legal hoops toward deportation, Canadians woke up to a thematically related immigration policy they did not know existed. Citizenship and Immigration Canada said that the country's demand for strippers was not being satisfied, but then-immigration minister Barbara McDougall, a Progressive Conservative, wanted this work visa gone because other areas of immigration "probably have a greater legitimacy and would have stronger public support." The cycle's fourth and final step is when both politician and strip-club-goer abandon this discussion, because there's no surer route to flaccidity than visa policy.
In 1998, Human Resources Development Canada reaffirmed the existence of the country's stripper shortage with a positive Labour Market Opinion, which said that temporary foreign strippers wouldn't put Canadians out of work. This positive LMO paved the foreign stripper's fast lane, because it suspended the standard case-by-case assessment that weighs both market impact (whether a Canadian is robbed of a job) and the employment offer (how well the employer will treat the worker). All sorts of capitalist creatures formed around this strange policy: one real-estate guy doubled as a booking agent, bringing in dancers from former Soviet-bloc countries expressly to rent out his condos during a housing slump; five Thai women were said to be living in residential quarters just above Toronto's Zanzibar Tavern; a Guelph postgrad was arrested in Costa Rica for recruiting thirty women for Toronto clubs, unable to explain that they were dancers, not prostitutes. Then, in 2000, Toronto police began Project Almonzo, a series of large-scale raids on more than a dozen clubs, resulting in the arrests of 670 owners, agents and dancers, many from Eastern Europe, with and without work visas.
But the stripper visa kept growing, most notably in Romania. At its 2003 peak, Immigration issued 552 of a total 681 such visas to Romanians. In 2004, Liberal immigration minister Judy Sgro offered a temporary-resident permit to Alina Balaican, a campaign volunteer and Romanian stripper on a work visa. Conservatives railed at Sgro for political favouritism, called on the Ethics Commissioner to investigate and then turned their attention to the visa itself. At first, Sgro recanted and said she was trying to shut down the policy, but then she flipped and said the strip-club business was a strong industry that had the right to ask for imports. Jack Layton said Sgro was "pimping for the sex trade"; Justice Minister Irwin Cotler called it a "nefarious bartering in human beings." MP Nina Grewal said there were seven hundred thousand "legitimate immigrants" queued behind these strippers. The positive LMO was redacted and case-by-case evaluation reinstated. But the political theme here is decline.
The number of stripper visas dropped dramatically—in 2005, only twenty-seven new visas were issued, and permit extensions dropped from 350 to ninety-eight. Though at a virtual standstill, the Conservatives kept introducing dead-horse-beating laws, for headlines and postures; in 2006, immigration officers were empowered to refuse applicants deemed at risk of exploitation. By 2007, there were 1,254 strippers in Toronto, down from 2,834 a decade earlier, a slump built by online porn, massage parlours, rising licence costs and the visa contraction. By as early as 2008, the stripper visa was a zombified codicil.
So, in the summer of 2012, shortly after the Ontario Court of Appeal struck down bawdyhouse laws as unconstitutional, the Conservatives angled to kill the visa yet again, with two prongs: an updated, negative LMO and a ban on processing new applications. All Canadian work visas will now feature this stamp: "Not valid for employment in businesses related to the sex trade, such as strip clubs, massage parlours and escort services." The comedy of Minister Kenney's July media event, with its bloviating about the sex-trade menace, was when he said that Canada issued about 180,000 permits for foreign workers last year, and that only "a very small percentage" of those ended up working in the sex trade.
Obvious enough is that this is a fucked-up paper maze straight out of Austrian fiction, in which, at each turn, women (morphed into "girls" or "ladies") are lassoed, led, splayed, documented and deported for and by a gallery hall of agents, club owners, MPs, abolitionists and audiences. (Note that I haven't quoted a stripper yet—the government doesn't, either.) To be not-Canadian, female and stripping makes you both criminal and victim, and all parties want to save the victim by punishing her crime. Tuulia Law of Sex Professionals of Canada says that, in her experience, the working conditions for foreign and domestic strippers were the same, except that foreigners couldn't legally perform lap dances, so, if they were law-abiding, they could only make $40 to $80 per day. You can create a lot of "crimes" this way. Gorby's Girls get deported, Toronto police punish ad hominem, but the liberal imagination is still upset. Strippers become a uniform bloc, for wholesale admission or rejection; all are happy or all are sad, without the attitudinal nuances that colour, say, selling insurance.
After the government officially killed the visa this year, the first strategic move of the Adult Entertainment Association of Canada was to scare the shit out of parents: without a foreign labour pool to draw from, strip-club owners are coming for your kids. Tim Lambrinos tailors a quote fit for a headline: "We're going to have to hire an eighteen-year-old to work in a club and we're going to take the steps to make sure they don't drink ... As far as recruiting eighteen-year-olds, that's a market that's been untouched." He has pledged to flyer high schools with ads reading, "If you are visually appealing and comfortable with your naked body and are comfortable about taking all your clothes off ..." (An Adult Entertainment Association of Canada lawyer says that this recruitment campaign will not happen.)
Barring these gross guys, the sticky thing about this paper maze is the inconsistency between when certain powerful people care about duress and when they don't. This past April, Human Resources and Skills Development Canada set up a two-tiered wage system for temporary foreign workers. Employers are now able to pay foreigners 15 percent less than that job's average wage. Of course, farmhands meet none of the indignation that would come if they were picking strawberries nude. Duress is perfectly reasonable when you're boxed into a shitty job by debt or macroeconomics, but the tenor of desperation is volcanic if you've come to take your clothes off. Then you must be saved. These are grotesque, telling acrobatics: capital only cares about workers' limbs when they become the show itself.
But the cardinal missing fact is that there's actually no stripper shortage and there probably never was. Strippers and clubs in not-Ontario provinces get perplexed at the mention of a shortage. And now, in recessionary times, Lambrinos and Leopard's boast about how many "girls" they're getting from a new outreach campaign  that promises to finance tuition payments as a perk.
The stripper visa was radical, even if it existed for all the wrong reasons, and now it is lost: a federal policy that required Canada to meet its infinite demand for libidinal energy. The country had opened its arms to the legitimacy of the sex trade and the beginnings of considerable social mobility. A Romanian could raise herself up with only her body, and Windsor's streets could be paved with worn US dollar bills. A stripper stage-named Rakell told the Edmonton Journal of a bygone promise of wealth redistribution: "Guys are throwing their paycheques at you. It's ridiculous." And now, with the Romanian-English phrasebooks trashed, the sex trade, which once offered empowerment, reverts to that sad, familiar fable of porky men under a rotten logic, rubbernecking between making good on exploitation and getting off on how bad they still are.