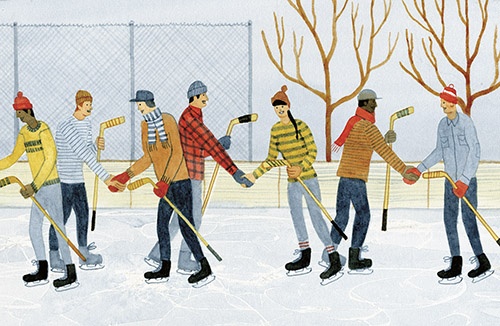 Illustration by Genevieve Simms.
Home Ice
As I pulled up to my fırst apartment in Montreal, my boyfriend appeared on the second-storey balcony, waving, as if on cue. I was in my early twenties, and my parents, in a show of supportiveness, had spent Labour Day ferrying me east along the 401, all the way from my hometown in southern Ontario to a postwar sixplex in La Petite-Patrie. 
I had moved for love, and my boyfriend, Simon-Pierre, was ready to return the favour by helping me lug my stuff up the stairs—including a black canvas wheelie bag spacious enough to conceal a body. 
"What's this?" asked Simon-Pierre, unzipping it in our foyer. He peered at its contents: padded shorts, a neck guard, a sweat-stained pelvic protector. 
"I play hockey," I said. We'd met while tree-planting, and some details from our everyday lives had never surfaced. 
How's this for a Canadian cliché: my ...