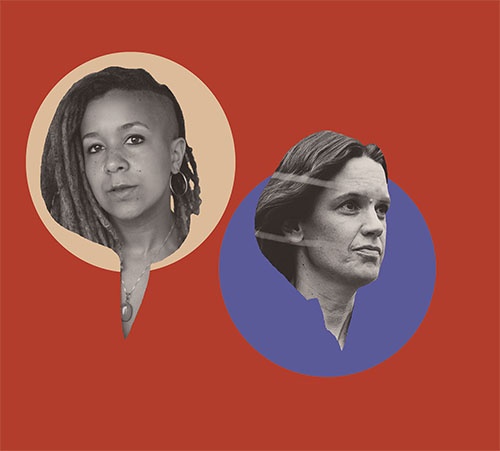 Illustration by Gloria François.
A Truthful Interaction
The authors of As We Have Always Done and Policing Black Lives talk about writing on their own terms.
EDITOR'S NOTE: In spring 2018, two of Canada's leading writers met each other for the first time. Leanne Betasamosake Simpson, the author of As We Have Always Done, and Robyn Maynard, the author of Policing Black Lives, spoke together at an event Maisonneuve hosted in Montreal. They discussed what Indigenous and Black movements have in common, whether in writing, activism or history, and the ways the two movements can bolster one another.
With the Black Lives Matter uprisings on many people's minds this summer, Maisonneuve is printing a portion of their talk—a condensed and edited version of the audience question-and-answer period. Here, they faced another common moment frequently shared by Black and Indigenous leaders: questions, especially from white people, about who they're speaking or writing for. As one audience member told Simpson, "I realize I'm not the audience for" her books. But, the same ...