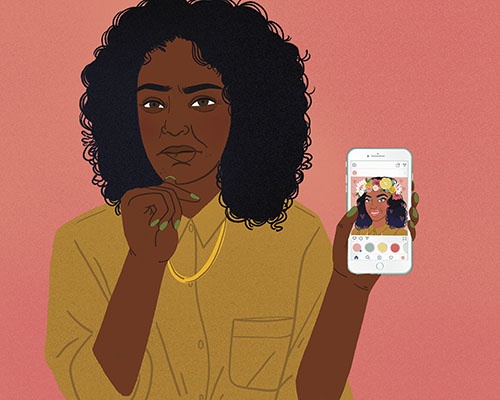 Illustration by Salini Perera.
Filtered Out
After years of using face-altering photo filters, Houda Kerkadi sees the bigger picture.
A few days into quarantine, I found myself in my Montreal apartment with absolutely nothing to do. My university classes were on hold and it was too cold outside to even go for a socially distanced walk. Suddenly, I had no real excuse to put off a task I'd been dreading for months: clearing out my phone. 
Curled up on my couch, I scrolled through my seemingly endless camera roll and started deleting some of my 12,867 photos. Flicking past the occasional pictures of food, memes and other memories, it quickly became clear what I was really doing—a selfie-erasing session. It was my countless selfies, more than anything, that were clogging up my phone. 
But as I sat there fixated on my screen, I was struck by how, despite having thousands of photos of my face, there was barely a photo that looked like me. Nearly every ...