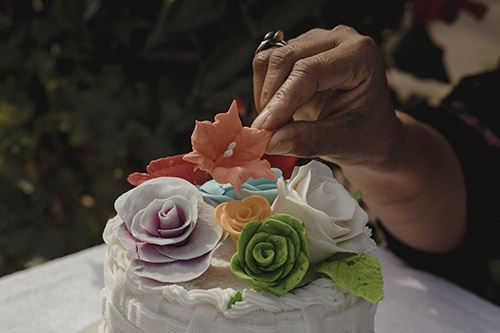 Photography by Chloë Ellingson
Where Credit's Due
Newcomers to Canada are often shut out of their industries. In Montreal, a community approach to financing might be the fix.
A young Senegalese man carefully manipulates sugar paste into a rose, pausing to show the instructor his progress. After a quick inspection, she nods her approval and the man continues. He is surrounded by several other intricately completed roses and a long row of colourful wedding cakes, all decorated with similar flowers. No glitter, no shine. Nothing to suggest that they are fake. The swirly petals look like the real thing, but they are as edible as the cake itself.

"I have students from all over the world who come to me to learn how to make French pastries," says his teacher, Marie Émilie Sambou. "What would take them one year to learn in France, I teach them in three months." She also shows them how to bake cakes, viennoiseries and fondant decorations at Le goût du palais chez Mimi, her certified French pastry school in the Côte-des-Neiges neighbourhood of ...