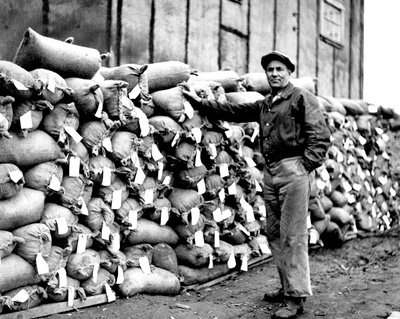 Maisy's Most-Read Stories of 2011
Dec. 27, 2011
Sacks of pitchblende Concentrate awaiting shipment at Port Radium, Great Bear Lake, 1939.
Presenting: Maisonneuve's third-annual roundup of our most-read articles and blog posts of the year! A burst of interest on Reddit drove Julie Salverson's "They Never Told Us These Things," a thoughtful rumination on disaster and the a-bomb, to the top of the list. Articles about feminism were hugely popular, with no less than five making it into the top twenty. And Mike Spry's response to Christie Blatchford's anti-hugging tirade went viral in a big way. Read on for the complete lists.
Most-Read Articles
1. "They Never Told Us These Things," by Julie Salverson
A mine in the Northwest Territories provided much of the uranium used during the Manhattan Project—unbeknownst to the indigenous people who worked there.
2. "Tourists of Consciousness," by Jeff Warren
As researchers explore using psychedelic drugs to treat mental illness, a powerful Amazonian hallucinogen is gaining the most devoted followers of all.
3. "The Crowd Goes Wild," by Alex Hutchinson
The shrinking online distance between sports fans and their heroes.
4. "Age of the Algorithm," by Ira Basen
The all-powerful Google search has given rise to sites like eHow.com, which critics dismiss as online sweatshops.
5. "Should Occupy Wall Street Take Up Arms?" by Christopher Watt
American history is full of revolutionary violence. Will the Occupy movement follow John Brown's example?
6. "Wikipedia's Battle for Paradise," by Abou Farman
The online archaeology of a single word.
7. "Human Behaviour," by Sheila Heti
Method acting, a once-radical invention, has lost touch with who we've become.
8. "Confessions of a Sexsomniac," by Salvatore Ciolfi
A very private disorder can quickly turn traumatic.
9. "We Felt No Mercy," by Naheed Mustafa
In Afghanistan, the wisdom of the powerful has resulted in decades of endless violence. What might we learn from ordinary people?
10. "Writing Her Off," by Madeline Coleman
Magazine profiles of notable women still fixate on femininity—especially when they're penned by men.
Most-Read Blog Posts
1. "Hugging Christie Blatchford," by Mike Spry
Why "Mr. Blatchford" is wrong about manliness, sissiness—and hugging.
2. "Why the CBC Needs to Fire Don Cherry (And Ron MacLean)," by Mike Spry
Canada's most ignorant hockey personality has finally gone too far.
3. "True Like: Why the Girl Crush Gets Us Nowhere," by Madeline Coleman
Everybody's talking about girl crushes, but what have they done for you lately?
4. "Montreal Comfort Food: Poutine," by Amie Watson
Where to find the best poutine in the city.
5. "An Open Letter to Leah McLaren Regarding Whether Women Are Funny," by Melissa Bull
Why McLaren's Hitchens-esque rant was both boring and offensive.
6. "We'll Never Be That Drunk Again," by Peter Braul
In the 1800s, American gentlemen frequently drank fifty glasses of beer a day.
7. "Whose Barney's Version is This, Anyway?" by Beverly Ackerman
Why the film adaptation of Richler's mighty novel falls flat.
8. "Ancient Chinese Secret: Terracotta Warriors at Montreal's Museum of Fine Arts," by Madeline Coleman
The craze for Chinese art, old and new.
9. "Female Writers Don't Get Bylines—So What?" by Jaela E. Bernstein
True equality is not about tallying bylines, but rather allowing our work to speak for itself.
10. "Female Writers Don't Get Bylines—And it's Not Always Their Fault," by Tina Hassannia
Ignoring byline disparity won't make the problem go away.
Subscribe to Maisonneuve today.
Related on maisonneuve.org:
—Maisy's Most-Read Stories of 2010
—Maisy's Most-Read Stories of 2009
—Our Winter 2011 Issue