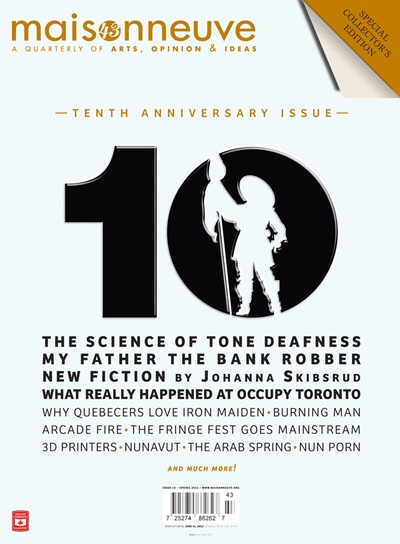 Maisonneuve Magazine Celebrates Ten Years With a Special Anniversary Issue
April 2, 2012
In the world of Canadian small-magazine publishing, ten years is a long time—and hitting your first decade is a story in itself. That's why Maisonneuve is proud to announce a special anniversary issue, on newsstands today, to celebrate the magazine's tenth birthday.
"It's not easy to publish an esoteric general-interest magazine in Canada, or an anglophone magazine in Montreal," says editor-in-chief Drew Nelles. "But, despite all the apocalyptic talk of the death of print, Maisonneuve is thriving. And we're so happy to be celebrating ten years."
Maisonneuve's Spring 2012 issue is anchored by several compelling features. In "Face the Music," veteran author and journalist Tim Falconer discovers that, although he passionately loves music, he is clinically tone deaf. This devastating realization propels him into a funny, fascinating investigation of the science and culture of music. In "Anatomy of an Occupation," freelance writer Paul Gettlich provides the definitive account of what really happened at Occupy Toronto. His epic seven-thousand-word report chronicles the fistfights, behind-the-scenes challenges and eventual eviction that doomed the encampment. In "The Big Job," Commonwealth Prize-winning author Deni Y. Béchard pens a moving memoir about his father, a lifelong criminal and bank robber. The issue also features new fiction by Johanna Skibsrud, the Giller Prize-winning author of The Sentimentalists.
Also in Maisonneuve's tenth anniversary issue:
—A.V. Club Toronto editor John Semley explores why Quebecers love Iron Maiden
—Said the Gramophone founder Sean Michaels recalls seeing Arcade Fire lose a Battle of the Bands
—Montreal Gazette columnist Marianne Ackerman profiles the most hated man in Canadian theatre
—Peter Tupper uncovers the secret history of nun pornography
—Chris Urquhart accidentally does crazy drugs at Burning Man
—Megan Lau enters the quirky world of do-it-yourself 3D printing
—Whitney Mallett investigates the slow death of Ontario's abattoirs
—Christopher Szabla on why movements like Occupy and the Arab Spring fail
—new poetry by Trillium Book Award-winner Ken Babstock
—never-before-translated work by the late Nelly Arcan
—Robert Poulton's beautiful photographs of Grise Fiord, Nunavut
—a new comic column by celebrated cartoonist Marc Bell
—reviews of the best books and music of the season
Maisonneuve was founded in Montreal in the spring of 2002. Since then, the quarterly magazine has continually proven itself a vital voice in Canadian publishing, winning numerous National Magazine Awards and running challenging, thought-provoking writing.
The tenth anniversary issue will be launched in Toronto on April 10 at the Ossington at 8 p.m. and in Montreal on May 3 at Eastern Bloc at 8 p.m.
Maisonneuve's special tenth anniversary issue is on newsstands across Canada now. For more information or to schedule an interview, please contact editor-in-chief Drew Nelles at drew [at] maisonneuve.org.