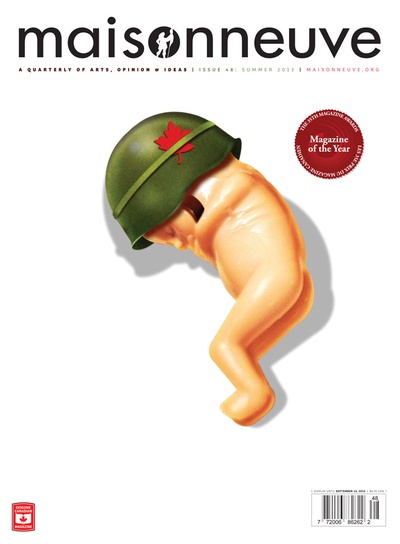 Our Summer 2013 Issue
June 10, 2013
Progressive Canadians like to believe that, on issues like reproductive rights, we're well ahead of our American neighbours. South of the border, conservative states pass onerous laws restricting the availability of abortion, Republican candidates fall over themselves trying to prove their pro-life credentials and, sometimes, abortion providers are threatened or even murdered. Up here, we tell ourselves, a woman's right to choose is guaranteed. But, as Andrea Bennett and Kim Fu reveal in "No Choice," Maisonneuve's new cover story, Canada's pro-life movement is experiencing a sweeping renewal. Activists are mobilizing support across the country and backbench Conservative MPs are taking on the abortion-allergic Prime Minister's Office. One anti-abortion activist describes the fight as "a battle yet to be won"; on our cover, art director Anna Minzhulina adapts an image by photographer Justin Langille to make that militant sentiment literal. Pro-choice Canadians should be on guard—as Bennett and Fu's diligent reporting makes clear, the struggle for reproductive rights is not over.
Ashleigh Gaul goes on a grueling hunt for the truth on Baffin Island, the site of what could be Canada's largest iron ore mine. 
Deni Y. Béchard wonders if female vigilante justice can fight gender-based violence in India.

Jonathan Sas on why the tar sands are bad for business.

Suzanne Ahearne accompanies two bottle collectors on their rounds through Vancouver's back-alley nickel fields.

Andrew Guilbert visits the Montreal guitar makers who are reviving a Depression-era instrument. 
As Charlene Kwiatkowski rides the SkyTrain, she longs for the sound of the most famous voice in London.

Jasmine Bakalarz captures behind-the-scenes portraits of young pageant girls.

Carmine Starnino examines the legacy of Canada's prolific poet fisher king.

Kiva Reardon on a documentary that sheds light on a troubled Toronto neighbourhood.

Alex Manley goes on a Valentine's Day date to the roller derby.
All this, plus new fiction from Zsuzsi Gartner and Maisonneuve Genre Fiction contest winner André Babyn, new poetry from Laura Broadbent and Robert Melançon, the next installment of Ethan Rilly's four-part comic series, spot illustrations by John Martz, the Book Room and the Music Room! 
On newsstands everywhere June 14th. Buy it here today!