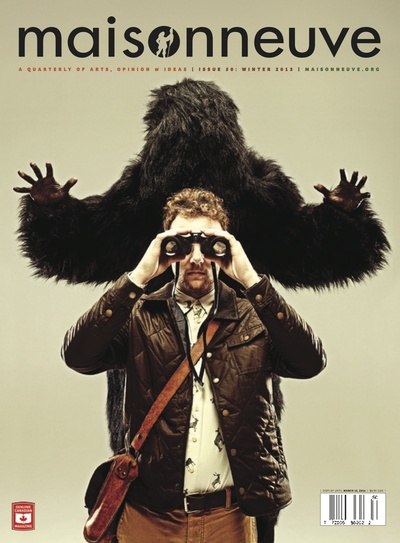 Our Winter 2013 Issue
Dec. 6, 2013
We can turn a cynical eye to the hunters who head into the woods searching for monsters, but as Suzannah Showler reveals in "On the Trail of Ignored Beasts",  our Winter 2013 cover story, these explorers may be looking for something more than a giant hominid. The search for Sasquatch (and the television specials and park re-brands that capitalize on it) gets at an innate human desire: when we peer into the unknown, we want to see something bigger than ourselves.

On our cover, photographer Sylvain Dumais and art director Anna Minzhulina capture the idea that what we're looking for could always be just behind us. Like Dumais' hairy monster, the idea of Sasquatch lurks at the edge of our consciousness. Seeing may be believing, but how can we ever know we've seen it all?
Naheed Mustafa goes behind the wall in Pakistan's violently persecuted Hazara community. 
Tim Falconer captures a generation of artists who are reshaping a small Yukon city. 
Samya Kullab on the Syrian refugees in Lebanon. 
Graeme Bayliss investigates the rampant sexual abuse faced by female chefs. 
Lyndsie Bourgon asks if Parks Canada is selling out our wilderness. 
Douglas Coupland imagines an alternate cultural history. 
Brett Gundlock's photographs from the new front line in Mexico's drug war. 
Chandler Levack, Kiva Reardon and Regan Reid on three exciting new efforts from Canadian filmmakers. 
Katherine Laidlaw remembers a Mile End beginning. 
Plus, the winner of the Quebec Writing Competition, new poetry from Stevie Howell, the conclusion of Ethan Rilly's four-part comic series, spot illustrations from John Martz, the Book Room, the Music Room, and more! 
On newsstands everywhere December 13th, 2013. Buy it here today!