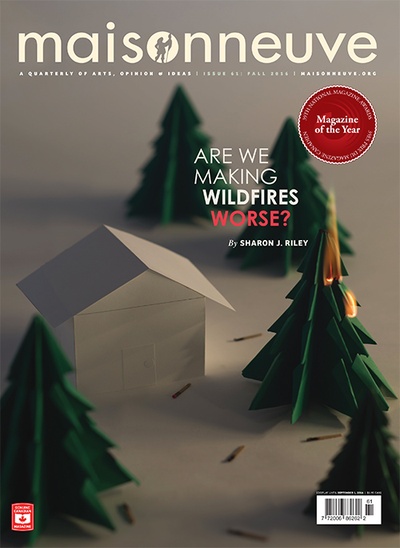 Our Fall 2016 Issue
Sept. 7, 2016
Many Canadians have a visceral fear of forest fires. But, as Sharon J. Riley reports, our obsession with putting out flames may be what's fuelling them.
The last time BC's Fraser River burst its banks, entire communities were submerged. With aging dikes and a growing population, Heather Ramsay writes, next time may be even worse.
The West is inundated with images of refugees. But as Seila Rizvic explores, every wartime snapshot is also a family photo.
Caitlin Stall-Paquet on how Quebec's obsession with its "two solitudes" erases linguistic minorities.
Bill Reynolds profiles a husband-and-wife team who went from slinging records to pouring Rieslings.
Alan Randolph Jones visits Cinéma L'Amour, Canada's last grand porn theatre.
Alexander Huls reviews Angel Catbird, Margaret Atwood's comic debut.
Adam Nayman on how director Matt Johnson is eschewing Canada's cozy film industry and making his own success.
Deborah Ostrovsky contemplates divorce.
Plus new fiction by Meredith Hambrock, poetry by Bardia Sinaee, the Book Room and more!