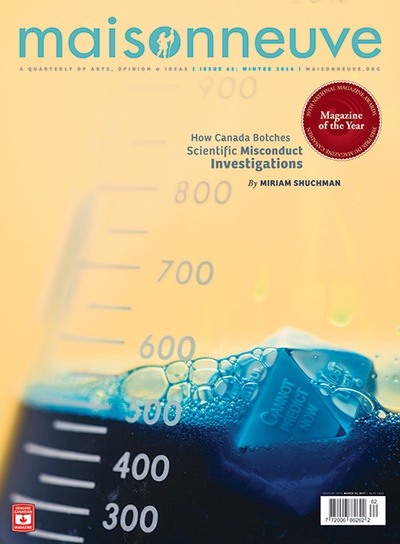 Maisy Welcomes a New Editor
Dec. 2, 2016
After more than a year at the helm, Maisonneuve Editor-in-Chief Daniel Viola is stepping down. Andrea Bennett, Maisonneuve's associate editor since last fall, has been chosen as Maisonneuve's new Editor-in-Chief.
"From my first issue at the magazine, I was surrounded by geniuses," says Viola, who started as Maisonneuve's associate editor in June 2014. "To be able to work with writers and editors who are so fantastically smart and savvy was a daily inspiration."
Bennett won a National Magazine Award for her investigation into young earth creationists and the 2013 Alberta floods for Maisonneuve. She has edited for Adbusters and This magazine. Kim Fu, whose debut novel was a finalist for the PEN/Hemingway Prize and a New York Times Book Review Editors' Choice, will be joining as associate editor.
"Andrea and Kim have a long history of producing exceptional work together," Viola says. "Maisonneuve will be their biggest project, and I have no doubt that it will be their best."
Last year, Maisonneuve won Magazine of the Year—the industry's highest honour—at the National Magazine Awards. It took home a total of 5 awards out of a record 18 nominations. Viola is moving on to an editor position at The Walrus in Toronto. His final issue as editor-in-chief will be Winter 2016, No. 62, on newsstands December 9.