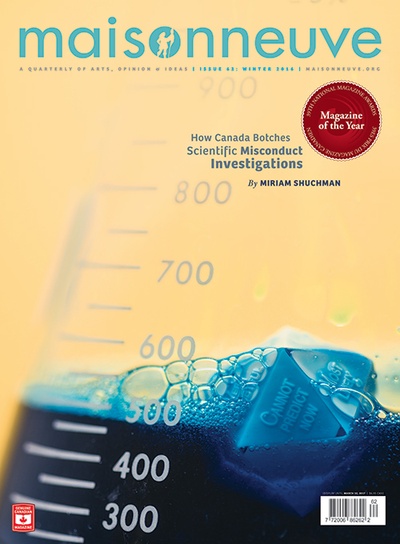 Our Winter 2016 Issue
Dec. 2, 2016
When scientists fabricate or falsify data, they affect research in progress and waste scarce grant monies. But as Miriam Shuchman writes, Canada's institution-dependent method for investigating misconduct is inconsistent, flawed and open to exploitation.
Straight tourists are flocking to Montreal's LGBTQ neighbourhood, while the queer community disperses for new haunts. Tim Forster on the double-edged sword of mainstream acceptance.
At six foot eight, Richard Kelly Kemick could be one of evolution's hopeful monsters. Did he miss out on a career in volleyball?
Davide Mastracci explores the inside-baseball term "mangiacake," and what it says about the place of Italians in Canadian society.
Jackie Wong digs into the neglected history of Chinese-Canadian farmers in Vancouver.
Canada is one of the only countries where people can be marginalized due to their genetics. As Adam Rasmi reports, that may soon change.
Melissa Bull translates work from Erika Soucy.
Erin Pehlivan reads Nicole Cohen's Writers' Rights, reflecting on creative work and labour struggles.
Hélène Bauer dines with ghosts.
Plus new fiction by Jane Ozkowski, poetry by Jeramy Dodds, the Book Room and more!