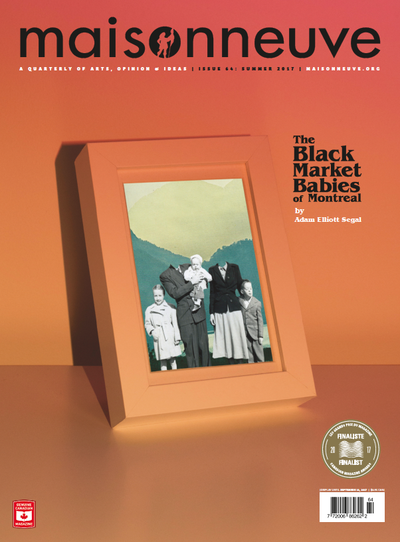 Our Summer 2017 Issue
June 9, 2017
Cover story: Religious matching and lax anti-trafficking laws made it easy for a network of doctors, lawyers and smugglers to develop an underground baby-selling ring in mid-century Montreal—taking infants from unwed Catholic mothers and giving them, for a fee, to unwitting Jewish families. Adam Elliott Segal, the son of one such black market baby, explains how DNA testing and online ancestry groups have finally begun to allow these adoptees to uncover their histories.
Andrea Bennett on the part cyclists will play in disaster relief after the Really Big One hits the Pacific Northwest.
The Edmonton Oilers' new arena has revitalized the city's downtown–and, as Benjamin Hertwig reports, it has also displaced its most vulnerable residents.
The Peace in Peril: a photo essay about the Site C dam, by Ben Nelms and Christopher Pollon.
Robyn Maynard on our nation's forgotten and far-from-over history of populist anti-Black violence.
As Canada 150 kicks off, Daniel Panneton and Erin Schuurs reflect on the last time we took comfort in ecstatic nationalism.
International students are a huge boon to the economy, but as Carine Abouseif writes, bureaucracy and social isolation can make it tough for them to set down roots in Canadian soil.
Birdering: a new comic from Elizabeth Haidle.
Melissa Bull translates work from Marc-André Cyr.
Tannara Yelland reviews Manufacturing Consent: Noam Chomsky and the Media on its twenty-fifth anniversary.  
Kyle Carney does ollies in Outremont.
Plus new fiction by Yasuko Thanh, poetry by Jim Johnstone, the Book Room, the Music Room and more!