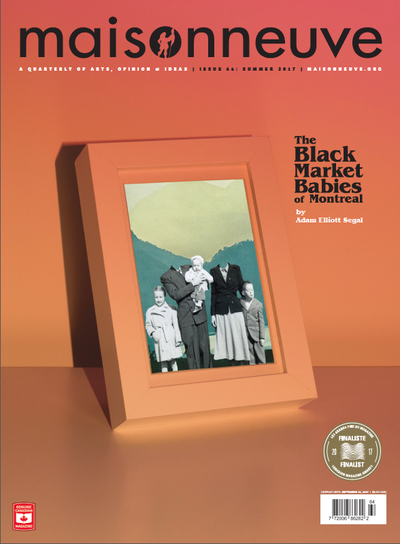 We're Hiring: Apply to be Maisonneuve's Associate Editor
Aug. 15, 2017
Maisonneuve is an award-winning, not-for-profit general-interest magazine, published in English and based in Montreal. We are seeking a brilliant, energetic magazine fanatic to join our small but dedicated team. This position is suited to highly motivated individuals who are self-starters, creative thinkers and willing to learn under the leadership of the magazine's editor-in-chief and publisher. The successful candidate must live in Montreal, or be willing to relocate to Montreal in advance of the start date.
If you are serious about beautifully crafted long-form writing and working in independent media, please apply!
Primary responsibilities include:
Assisting the editor-in-chief with the planning and editing of all sections of the print magazine (quarterly publishing cycle)

Coordinating the fact-checking of print articles

Training and managing research interns

Liaising with writers on the development of story ideas and drafts

Assisting in production and writing display copy

Proofreading

Coordinating the Book Room

Assisting with editing and writing web content

Assisting with launch parties and other promotional events

Attending art and editorial meetings
Qualifications:
Post-secondary degree in English, Journalism or equivalent work experience

2 years experience editing and/or writing, preferably in magazines

Working knowledge of fact-checking practices

Experience working with InDesign, content-management systems, and social media

Attention to detail

Strong proof-reading and research skills

Ability to manage time and multiple deadlines

Strong interest in independent media and not-for-profit sector
This position pays a modest monthly honorarium. The work schedule is flexible and part-time, except for the final production periods (4 times per year: February, May, August, November).
To apply, please submit a cover letter, resumé and three writing samples by 5 p.m. EST on September 1 to [email protected]. Selected applicants will be contacted by mid-September and will receive a short editorial test to be completed in a prescribed amount of time.