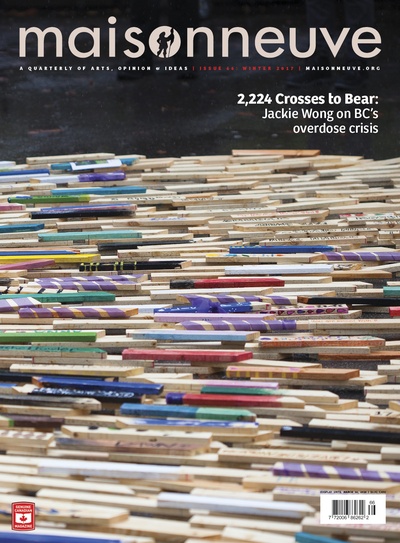 Our Winter 2017 Issue
Dec. 1, 2017
Cover story: Two decades ago, Vancouver formed the vanguard of HIV/AIDS treatment and prevention. Now, as the country faces mounting deaths from fentanyl, Jackie Wong examines the city's past successes and uncovers lessons for the future.
When Big Alcohol claims to want to reduce harmful drinking, can you trust them? Miriam Shuchman investigates. 
Fifty years after the Vietnam War, Anders Morley explores the enduring legacy of draft dodgers in Canada.
What's with all the witches? Anna Maxymiw divines the trend. 
Battle fatigue: retired Captain Kelly S. Thompson on how to change the CAF's culture of sexual harassment.
Chris Riddell explains how Toronto's severe 2013 ice storm heralds worse things to come.
Birdering, Part II: a new comic from Elizabeth Haidle.
Melissa Bull translates Marie Mello's "Beyond Pink and Blue," on the importance of intersex activism.
Alternate universe: Will Pearson goes behind the scenes at Montreal's iconic indie label, Constellation Records.  
Searching for a taste of home, Katie Sehl visits a Parisian doppleganger Schwartz's. 
Plus new fiction by Ben Rawluk, poetry by Natalie Wee, the Book Room, the Music Room and more!