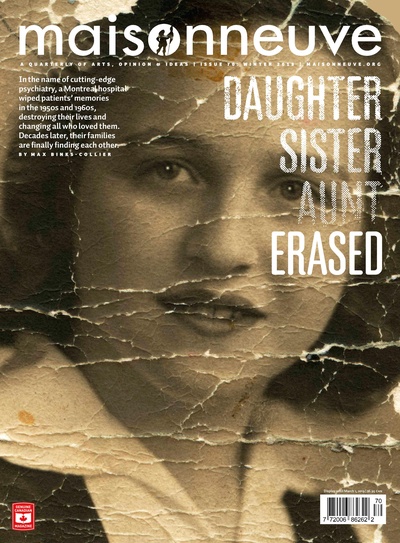 Our Winter 2018 issue
Dec. 13, 2018
Cover story: Montrealers came home shattered from state-sponsored brainwashing experiments at a local hospital, Max Binks-Collier reports. For their families, the aftermath was not only painful but hard to explain, leaving them isolated. Decades later, however, these families are finally finding each other.
On our cover, Art Director Brian Morgan shows one of the victims as she once was. Phyllis Goldberg sought help at a Montreal hospital during a bout of depression in 1945, but was instead subjected to psychological experimentation and changed forever.
What does it take to rebuild Jewish culture in Poland after its near-total erasure? Jodie Shupac explores the question after visiting a new generation of Jewish leaders in Krakow.
After centuries of exclusion from the world of fine wine, the obscurity of Greek grapes is now their selling point, writes Jonah Campbell.
Lorraine Glendenning gave up motherhood for the sake of the climate. Thirty years later, she now asks if it was worth it.
Lorcan Archer reconstructs the story of a Soviet satellite that crashed in Canada's Arctic, speaking to those who experienced it firsthand. In the end, they said, it was a sign of things to come in the north.
A new generation of mourners is stripping funerals back to the basics. Vincenzo Ravina looks at what remains.
After a close call with losing all his photos, Taylor Lambert was forced to wade through them all. The experience made him wonder if he needed them in the first place.
How Not To Be Weird: a comic from Alison McCreesh.
Melissa Bull translates Samuel LaRochelle's "The Homecoming."
No Man Lands: Lizzie Chatham reviews recent works of feminist sci-fi where women hold the power.
New to Montreal, Carly Rosalie Vandergriendt musters up the courage to play shinny with les boys.
Plus new fiction by Lee Maracle, poetry by Ali Blythe, the Book Room, the Music Room and more!