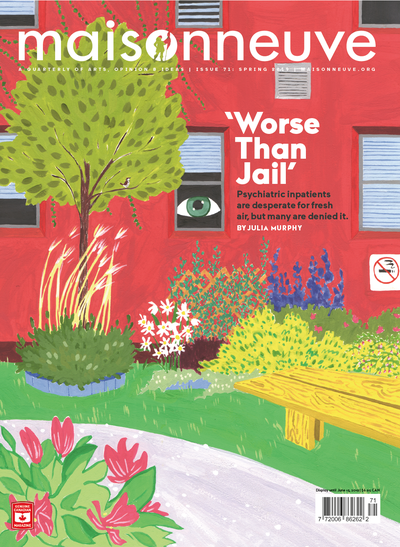 Our Spring 2019 issue
March 8, 2019
Cover story: Canadian psychiatric inpatients are desperate for fresh air, but they can go years without stepping outside. Julia Murphy, a former psychiatric nurse, investigates what's keeping them shut in.
On our cover, artist Caitlin McGuire and Art Director Brian Morgan try to see the world from the patients' perspectives.
Alexander McClelland asks if PrEP, the much-hyped drug that prevents HIV, is bringing revolution or regression to the gay community.
Igor Gouzenko convinced Canadians that Russia was dangerous, ultimately sparking the Cold War. Regardless of whether that danger was real, John Woodside reports, we've feared it ever since.
Media have been bombarding us with headlines about Jody Wilson-Raybould, but Kaila Jefferd-Moore tuned out after realizing none of them got at what was really important.
Nick Dunne meets the Montreal man devoted to saving an all-consuming and once widely beloved billiards game: snooker.
Immigrants pay exorbitant fees to send money back home, but Sheima Benembarek explains how a blockchain breakthrough could change that.
Women in tree-planting are used to working in gruelling conditions, writes Quinn Mason. But unearthing the industry's equity problems could be their biggest challenge yet.
"Homecoming," a new comic from Tom Chitty.
Melissa Bull translates Chloé Savoie-Bernard's "Black Water Lilies."  
Amidst a sea of music streaming services, Brennan McCracken considers the numbing effects of the algorithm.
As the snow melts, andrea bennett chronicles Montreal's winter-mangled bikes.
Plus new fiction by Jowita Bydlowska, poetry by Rachel Crummey, the Book Room, the Music Room and more!