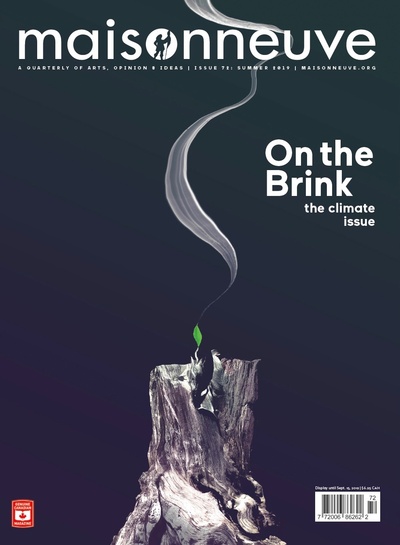 Our Summer 2019 issue
June 14, 2019
Faced with unfathomable news—that without drastic changes, the planet is headed for climate catastrophe—the hardest part for many people is simply accepting those facts. Inside our special issue on climate, you'll find perspectives on living with the looming crisis from survivalists, industrialists, teenagers, scavengers and more. Plus, some hope for making our way out of this mess.
Low-carbon living isn't easy, but making the choice seem normal to the rest of the world is even harder. Kate Black meets a Calgary man trying to make it work without being weird.
In the aftermath of wildfire, Rachel Jansen joins the ruthless rush for valuable morel mushrooms in BC.
Reckoning with an environmental nightmare, Sudbury's mining sector learned that turning around emissions can also be good for business, Robert Hiltz reports.
Worried about losing your way of life? Inuit leader Sheila Watt-Cloutier shares lessons from living through times of dramatic change.
Meagan Campbell investigates how a climate change denier ended up sitting on the board of Canada's science museum.
Teenage climate activist Rebecca Hamilton pushes for fixes to public transit.
Where to live when the world's on fire? David Rudin on finding a home for the end times.
Survivalist and wilderness guide Jen Moses puts fine-dining cookbook Joe Beef: Surviving the Apocalypse to the test.
After thirty-five years reporting on science, Stephen Strauss reflects on the missteps of climate crisis communication.
Fionn Adamian practices his broken French mid-heatwave.
New fiction by Christopher Evans, new poetry from Mikko Harvey, Writing From Quebec, the Book Room, the Music Room and more!