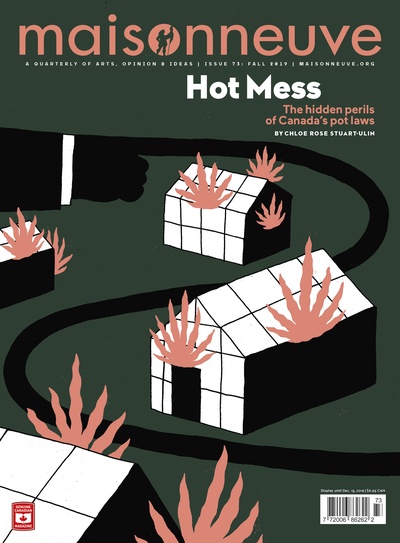 Our Fall 2019 issue
Sept. 13, 2019
Cover Story: Canada has marched towards legalizing pot because, the government says, it's good for public health. But nearly a year after legalization, a tangled mess of cannabis laws is hanging citizens out to dry and even endangering lives. Chloe Rose Stuart-Ulin investigates. 
On our cover, artist Julien Posture and Art Director Brian Morgan show just how many cannabis fires—both real and metaphorical—are left to put out.
When citizens in Saskatchewan had doubts about the official account of an oil spill, they took matters into their own hands, reports Lauren Kaljur. Their skepticism led them to make an increasingly common choice: to hire a scientific expert of their own. 
These days people love the idea of interracial marriages, Natalie Harmsen writes, but that's different than making one work. Just ask her parents. 
Canada preaches support for refugees, argues Jane Gatensby. So why are our borders closed to those fleeing Venezuela?
Being basic can come with serious perks. In fact, Nicholas D'Ascanio reveals, it's the reason behind London, Ontario's best-kept secret. 
Cole Nowicki decodes strange signs on a Saskatoon street and ends up revisiting his childhood. 
From North Korea to Yemen, Ethan Jakob Craft tracks the rise and risks of "danger tourism." 
Rosie Long Decter on the star power of funny girl Tranna Wintour. 
Eva Crocker moans her way through her Montreal homecoming. 
Plus new fiction by Krzysztof Pelc, new poetry by Domenica Martinello, the Book Room, the Music Room and more!