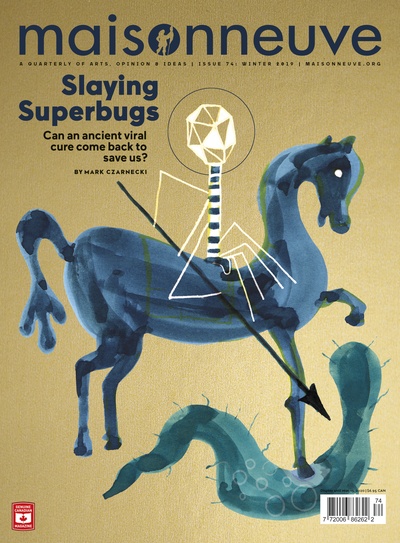 Our Winter 2019 issue
Dec. 9, 2019
Cover Story: As the threat of superbugs looms, the world scrambles for solutions. But one might already exist: phage therapy, a controversial virus-based treatment first used by a Canadian scientist a century ago. Mark Czarnecki reports.
On our cover, artist Ben Weeks and Art Director Brian Morgan show the dark-horse method that could come to our rescue, if only scientists could make their funders listen.
When a man arrived in Grand Bend, Ontario with his exotic animals in tow, he believed the place would be a refuge for odd and unusual species. The town—to put it lightly—felt differently. Kieran Delamont observes the fallout.
As the persecution of Uyghurs in China persists, Max Binks-Collier reports on Uyghurs living in Canada who won't let their culture be erased.
A new generation of entrepreneurs claims to sell solutions to life's biggest problems. Kathryn Jezer-Morton checks the receipts.
The craze for the comforts of "hygge" comes from a dark place, writes Luc Rinaldi, and he's not talking about Denmark in winter.
Toronto bookstores are shuttering one by one, but an unusual shop is thriving—without stocking anything on visitors' reading lists. Jadine Ngan pays a visit.
Adnan Khan seeks a sense of home within Wajdi Mouawad's new play, Birds of a Kind.
Deborah Ostrovsky says goodbye to a friend in the early days of Bill 21.
Writing from Quebec: Melissa Bull translates recent work from Patrick Nicol.
Plus new fiction by Spencer Lucas Oakes, new poetry by Natalie Lim, the Book Room, the Music Room and more!