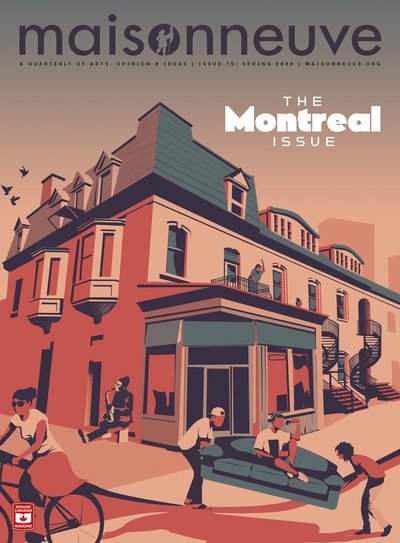 Our Spring 2020 Issue
March 17, 2020
Most Montrealers just want to be left to their traditional pastimes: starting bands, sitting on their balconies and trash-picking furniture from neighbours. But the city is changing and its residents are scrambling to hold on to what's important—including their apartments. Inside our Montreal issue, you'll find perspectives on how to save the city we love. 
Montrealers have always fought to keep rent low, reports Tracey Lindeman. But they've never faced a housing crisis quite like this. What happens when they no longer know who or how to fight?
A pesky meme keeps saying moving to Montreal won't fill the void. Madeline Lines wonders if it might be right.
Iconic music venues—from Katacombes to Divan Orange—are shuttering one by one, writes Adam Kovac. Why won't the city intervene?
Quebec's new sovereignty movement isn't like your parents' separatism, Nora Loreto explains—except in a way, it is.
Secularism supposedly only limits public life, writes Noha Beshir, but hundreds of thousands of Quebecers know it's not that simple.
Jasmine Irwin went to adult summer camp in rural Quebec and learned that French immersion isn't for the weak.
Denise Brunsdon examines the country's bitter rotisserie rivalry. 
Jim Burke follows the leaps and bounds of Montreal's independent wrestling scene. 
Jeff Miller remembers the pre-"Mile-Ex" days of Dépanneur Le Pick-Up.
"Wendy's Night Out," a new comic from Walter Scott.
Plus new fiction from Helen Chau Bradley, new poetry from Shazia Hafiz Ramji, the Book Room, the Music Room and more!