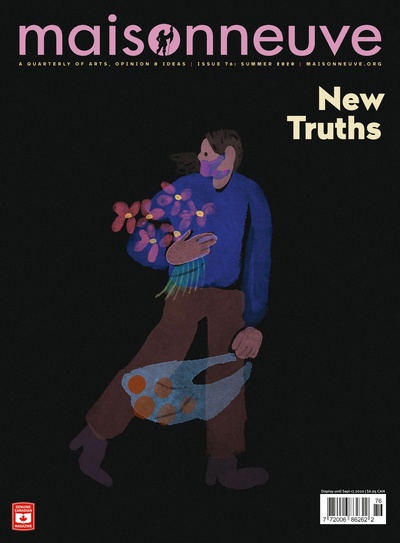 Our Summer 2020 issue
June 8, 2020
There's little need to describe what we have all gone through, collectively, in the past few months. But for each of us as individuals, this time has brought countless small realizations and changes, and our Summer issue is dedicated to putting those into words. On our cover, artist Talullah Fontaine shows what it's like to be taken by surprise.
In a pandemic, following the rules is an act of love. But the HIV crisis taught Stephanie Nolen that overlooking them can be, too.
Recording an album at a distance, Donovan Woods remembers why collaboration—not solitary genius—is the secret to making great music. 
Alicia Elliott questions the nagging desire to shop, even while sheltering in place.
Apocalyptic novels used to make sense, writes Kevin Chong, but now we'll need new metaphors.
Living at the epicentre of the Canadian crisis, André Picard finds refuge on Mount Royal.
Holed up, Suzannah Showler asks what we owe to the outside world. 
Politicians have whittled down public health care for years. While caring for his dad, Ryan David Allen learned how much the system has come to rely on the love and guilt of ordinary people.
How did we end up with a farming system that endangers both its workers and the people it feeds? Experts say this is Canada's Gordian knot, but Francesca Bianco tries to unravel it anyway.
Walking empty streets in Montreal, Kasia van Schaik learns to appreciate city life from the outside looking in. 
As our worlds move online, Chloë Lalonde makes a trip to the dep without leaving home.
Plus new fiction from Heather O'Neill, new poetry from Andrew Faulkner and Tara McGowan-Ross, the Book Room, the Music Room and more!