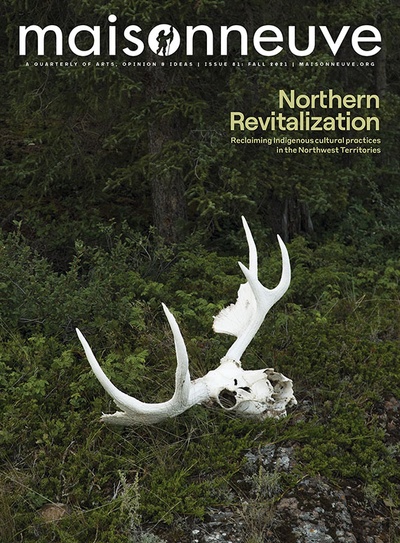 Our Fall 2021 Issue
Sept. 13, 2021
Cover story: In the Northwest Territories, Indigenous people are proudly reclaiming their connections to their homelands and cultural practices. On our cover, photographer Pat Kane and art directors Rachel Wine and Brian Morgan show the strength of these acts of self-determination.
For survivors of a Saskatchewan residential school, healing can't begin until the harms are fully acknowledged, writes Samantha Nock.

Newcomers to Canada are often shut out of their industries. In Montreal, Phil Roberts reports, a community approach to financing could be the fix.

Sex workers have long been speaking out against harmful laws. Josh Greenblatt explores how online workers fit into the conversation.

A terminal diagnosis can leave patients with anxiety, depression and countless questions, writes Amy van den Berg. Could psychedelic therapy give them the answers they're looking for?

Acts of anti-Asian racism have increased at an alarming rate since the pandemic began. Fiona Tinwei Lam tries to make sense of senseless hate.

Growing up a Jehovah's Witness, Daniel Allen Cox was taught to believe in imaginary threats. In retrospect, he writes, that only made it harder to see the real dangers around him.

Duncan McLachlan reviews Casey Plett's A Dream of a Woman and Jackie Ess's Darryl.

Plus, new art from Tanvi Bhatia, fiction by Eva Crocker, poetry by Laura Ritland, and more!