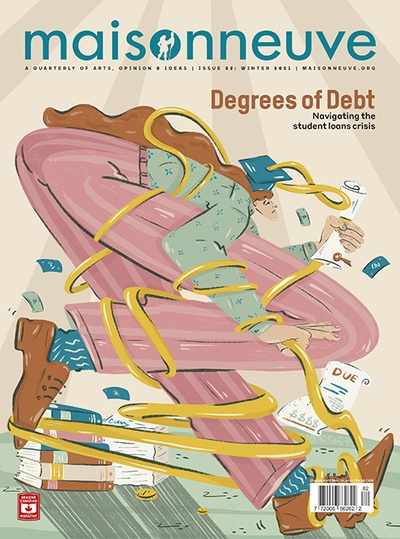 Our Winter 2021 Issue
Dec. 17, 2021
Cover story: Hundreds of thousands of Canadians are trapped by student debt, and governments are doing little to help, writes Gillian Turnbull. On our cover, illustrator Rialda Dizdarevic and art directors Rachel Wine and Brian Morgan show a borrower trying to break free of the burden.
The forestry industry's prized pesticide may be harming people and nature, reports Moira Donovan. Is it time to stop spraying?
Applying for permanent residency on humanitarian and compassionate grounds is a last resort for migrants in Canada. Christopher Chanco explores a convoluted system.
PEI has long branded itself as the birthplace of Canada. How do you decolonize, asks Kate McKenna, when confederation is a cottage industry?
Hockey is a way of life in Curtis LeBlanc's hometown of St. Albert, Alberta. But what if you're pulled in another direction?
Scenes from Long Covid: Rhonda Mullins chronicles her relentless recovery from the virus.
Canada is quietly expanding its digital alternatives to immigration detention. Joe Bongiorno investigates the harm being done to detainees.
Jean Marc Ah-Sen speaks with Naben Ruthnum about his new novel.
This Extended Period of Reflection: a new comic from Lee Lai.
Ziya Jones writes a love letter to "the plaz" in Montreal.
Plus new fiction from Megan Gail Coles, poetry by Mikko Harvey, the Book Room, the Music Room, and more!